A decade of devotion to nature protection
For the last 10 years, Zhang Yong has been a guardian angel of Gahai Lake in Gannan Tibetan autonomous prefecture.
The lake and its wetland, only 50 kilometers away from Luqu town in Northwest China's Gansu province, occupying an area of 120 square kilometers, serve as a rest stop and hatching destination for tens of thousands of migratory birds from spring through fall.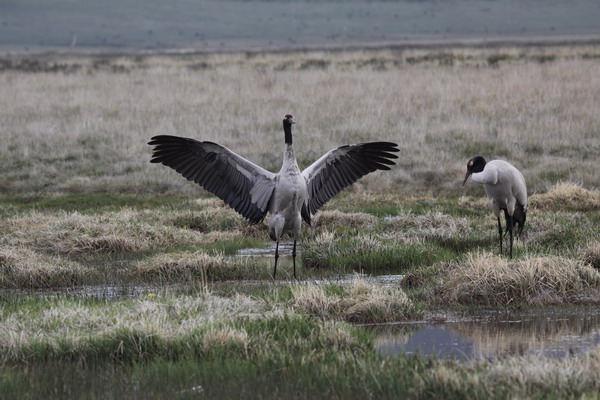 A black-necked crane, a first-class national protected animal, unfolds its wings at Gahai wetland in Gansu province. Photo from 2010. [Zhang Yong for chinadaily.com.cn]
But the haven for birds had long been in decline in the 20th century due to more severe droughts, before local government started to notice it in the late 1990s and put in ecological protection efforts since, including establishing a conservation station in the area in 2003.
Zhang Yong, then 31, after having worked at the local forestry department for eight years, joined the campaign and began his mission of saving the state-level nature reserve from destruction.
"My job covers monitoring and breaking down data of the migrant birds, the wetland as well as the lake. Sometimes I go out there to ensure no poaching is happening," said Zhang, who is now the vice station master.
But the station's conservative efforts stretch beyond the wetland. Since 2003, Zhang and his colleagues, from the earliest two to the present 19 in number, completed a number of projects, such as diverting water from Quzhong River to Gahai Lake (to prevent loss of water), setting up fences (to stop intrusion) and restoring the wetland and pastures by eradicating rats, which have seen fruitful results, according to Zhang.
"There were only about 5,000 migrant birds that came to Gahai in 2003. But the number increased to 32,000 this year," he said, adding that the size of the wetland also soared from 480 hectares to around 2,200 today.
Despite riding a wave of positive momentum into a brighter future, the wetland, the operating expense of which relies heavily on subsidies from local and federal government, shouldn't be over-commercialized too soon because of its fragility and the unpredictability of visitors, according to Zhang.
"Currently we receive 6,000 to 7,000 tourists annually, which is enough for me, as I am really concerned about some uncivilized behaviors from them," he said.
"In peak season (July and August), many of them, especially self-driving tourists, are inclined to throw garbage along the road outside the reserve, which can stretch as far as 10 kilometers and make our men clean them up every two or three days," he said.
His 10 years in such a remote environment with a modest monthly income of 3,000 yuan was driven by his pure love for Mother Nature and a sense of responsibility, according to Zhang, who has read extensively to get a better understanding of and skills for his sacred job. In 2010, he became a contract photographer for Xinhua News Agency.
"I love nature. I have loved it since I was very, very young," he said, smiling.

Editor's picks

Copyright 1995 - . All rights reserved. The content (including but not limited to text, photo, multimedia information, etc) published in this site belongs to China Daily Information Co (CDIC). Without written authorization from CDIC, such content shall not be republished or used in any form. Note: Browsers with 1024*768 or higher resolution are suggested for this site.
Registration Number: 130349