Jiang Jiemin removed from office: authority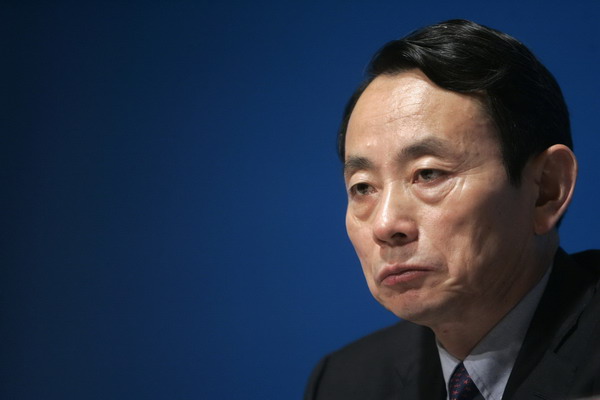 Vice-Chairman and President of PetroChina Company Limited Jiang Jiemin attends a news conference in Hong Kong in this March 19, 2007 file photo. [Photo/Agencies]
BEIJING - Jiang Jiemin, head of the State-owned Assets Supervision and Administration Commission (SASAC) of the State Council and deputy secretary of the SASAC committee of the Communist Party of China (CPC), has been removed from office, suspected of serious disciplinary violations.
Xinhua learned the information Tuesday from the Organization Department of the CPC Central Committee.
The official website of the CPC Central Commission for Discipline Inspection and the Ministry of Supervision said on Sunday that Jiang is under investigation for such violations.
Chen Xi, deputy head of the Organization Department of the CPC Central Committee, disclosed the CPC Central Committee's decision to investigate Jiang at a meeting of the SASAC's CPC committee on Sunday.
At the meeting, members of SASAC's CPC committee said they strongly supported the CPC Central Committee's decision, according to a statement posted on the SASAC's website Monday.
The decision represents the fundamental requirements of the Party to be strict with its members and demonstrates the Party's steadfast determination to fight corruption, the statement said.
Related readings:
SASAC head latest target in graft probe
Senior official investigated over suspected disciplinary violations

Editor's picks

Copyright 1995 - . All rights reserved. The content (including but not limited to text, photo, multimedia information, etc) published in this site belongs to China Daily Information Co (CDIC). Without written authorization from CDIC, such content shall not be republished or used in any form. Note: Browsers with 1024*768 or higher resolution are suggested for this site.
Registration Number: 130349