Fighting malaria
Professor Li Guoqiao and his team from Guangzhou University of Chinese Medicine have been successfully combating malaria cases in the Union of Comoros in Africa since 2006.
When Li Guoqiao first visited the Union of Comoros, an African nation made of four major islands, in 2006, he was greeted with curious looks and doubts about the bitter Chinese medicine granules he claimed to be the antidote to the deadly malaria that had caused so much grief there.
But actions speak louder than words and it was not long before those doubts were dispelled. The professor from Guangzhou University of Chinese Medicine and his team launched a battle against malaria first on the island of Moheli in 2007, where 23 percent of the 36,000 residents were carriers of plasmodium, the parasite responsible for human malaria. The percentage dropped to 0.33 percent four months later, setting a record as the world's fastest nation to control malaria. No one has died from it since.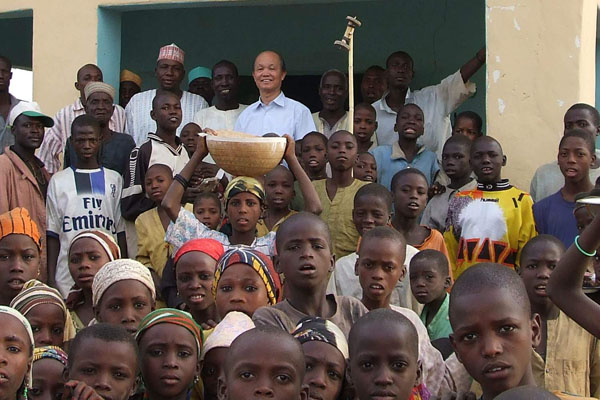 Li Guoqiao with children in Katsina, in northern Nigeria, in 2007. Photos provided to China Daily
The Chinese medical team reproduced this success in Anjouan, an island with a population of 310,000, last year, bringing the percentage of plasmodium carriers down from 19 percent to 0.5 percent.
A group of nine young doctors flew to Comoros on Aug 23, ready to help the 350,000 residents on Grande Comore, the country's biggest island, to defeat malaria.
Li, 77, has been on the front line of combating malaria at home and abroad for 46 years, but was unable to join this latest trip because of health concerns. "The 20-hour flight to Comoros is too much for my health. And my family also firmly prohibits me from taking long-distance trips. But I can still go to nearby countries such as Cambodia to offer medical aid and carry on my scientific research," Li says with a grin.
"My dream is that our anti-malarial drug and therapy will win the world's recognition and wipe out the disease one day."
To commend and thank the Chinese medical team for their persistent, selfless aid, the vice-president of Comoros came to Guangzhou University of Chinese Medicine in person on Aug 21 to award presidential medals to Li and his colleague Song Jianping, the first two foreigners to be given the award.
"We hope to get further technical and financial support from China and enhance the countries' cooperation in medical care. With such great help, I believe that I will proudly announce in 2016 that Comoros is free of malaria," Fouad Mohadji, the vice-president, said at the award ceremony.
China's Ministry of Commerce will supply Comoros with compound drugs of artemisinin plus piperaquine for 1.8 million people to support the Grand Comore project.
"We hope that the world can acknowledge Li and his team's contribution and the anti-malarial program in Comoros will become a successful example for other hyper-epidemic areas in Africa," Mohadji says.
Li Daning, deputy director of the State Administration of Traditional Chinese Medicine, praises the university's medical team as a friendship bridge between China and Africa, and Li Guoqiao as "the contemporary (Norman) Bethune", the Canadian doctor who ran military hospitals in China in the 1940s.
Wang Shengliang, principal of Guangzhou University of Chinese Medicine, is proud that the team has introduced Chinese medicine to the world and been a pioneer in international cooperation.
Although Comoros officials speak highly of Li's anti-malarial drug and methods now, the country was reluctant to try them initially because the traditional method of tackling it as advocated by the World Health Organization was mosquito eradication.
Li, however, advocates eradication of the source rather than the carrier, in other words, killing plasmodium in the human body. And his method requires all the residents on the island to take drugs, whether they are carriers of plasmodium or not.
"Some Western scholars criticize us as being inhuman for asking all the residents to take drugs. They don't understand that malaria spreads this way — some people carry plasmodium today and some others will carry the protozoan the next day," Li says.
The world-renowned professor was initially invited to Comoros by a Chinese living there.
Based on the success of his anti-malarial program in Cambodia from 2004 to 2006, Li advised the Comoros government to adopt his method but was rejected. He did not give up though and offered to conduct an investigation of the malaria situation on Moheli.
Li and his team visited most of the 25 villages on the island, going from door to door to take samples of blood, disregarding the fatigue of working under the scorching sun.
Besides improving their program based on the survey results, Li endeavored to get permission from the WHO to conduct an experiment using his methods on Moheli.
"Margaret Chan, the WHO's director general, agreed. And the deputy director in charge of anti-malarial work remarked that our program in Comoros would make a revolutionary change to the work if it is successful," Li recalls.
"However, our anti-malarial therapy still has not been officially recognized by the organization."
Li's long battle against malaria started with his participation in China's national malaria control project — Project 523 — which was launched on May 23, 1967. More than 500 scientists from 60 institutes spent 13 years extracting artemisinin, a new anti-malarial drug, from traditional Chinese medicine.
Having left his wife and newly born daughter to travel to hyper-endemic areas in Hainan and Yunnan provinces, Li not only sacrificed his family life but was also prepared to sacrifice his health in the pursuit of eradicating malaria, often asking colleagues to jab him in an effort to find an acupuncture cure. After one such test in 1968, he lost sensitivity to heat in his right leg for a year.
After coming to the realization that acupuncture was not a good therapy for malaria, Li sought a cure through drugs, which he also tested on himself. In 1973, after one test of a folk recipe, Li was left temporarily paralyzed.
In 1981 Li risked his life, injecting the blood of a patient with malaria into himself so as to see how it progresses. Suffering fever and enlargement of the liver and spleen, Li wrote a will in case he died. Jokingly he asked his family and friends to draw a plasmodium on his funeral wreaths.
Li's dedication eventually paid off with the discovery of artemisinin for tackling malaria. He co-wrote a paper on the subject, which was published in the prestigious medical journal The Lancet, putting his methods into the international spotlight.
The core members of his medical team traveling to Africa and Southeast Asia are now those in their 20s and 30s.
Deng Changsheng, 32, was the leader of the nine-member team that flew to Comoros recently. The days he has spent on scientific research and medical aid in the African country and Cambodia add up to 50 months since 2006. "I had never expected myself to stay in Africa for so long. But after seeing how terrible malaria is and saving hundreds of lives at the front line, my heart has been taken by the sense of mission to defeat the deadly disease," Deng says.

Editor's picks

Copyright 1995 - . All rights reserved. The content (including but not limited to text, photo, multimedia information, etc) published in this site belongs to China Daily Information Co (CDIC). Without written authorization from CDIC, such content shall not be republished or used in any form. Note: Browsers with 1024*768 or higher resolution are suggested for this site.
Registration Number: 130349