Boy may have artificial eyes soon
Guo Bin, 6, whose eyes were gouged out in an attack by an unknown assailant in Fenxi county, Shanxi province, is expected to have ocular prosthesis, or artificial eyes, implanted in three months, doctors said.
The boy is in stable condition but still doesn't know about his loss of eyesight, said the boy's father, Guo Zhiping.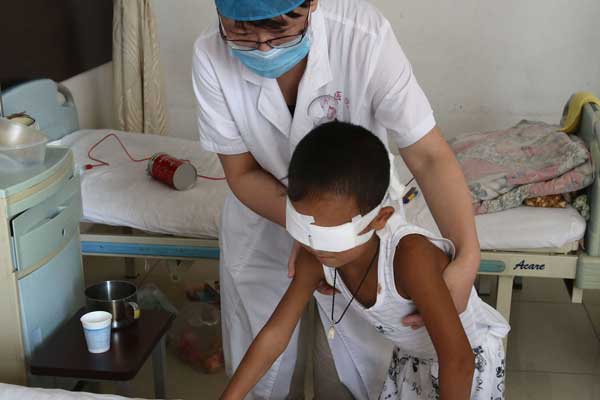 Guo Bin, aided by a doctor at Shanxi Eye Hospital in Taiyuan, tries to walk during a rehabilitation training program that started on Sunday.[ZHANG YUN / CHINA NEWS SERVICE]
Donations have been flowing in since reports about the boy hit the headlines late last month, and Guo Zhiping said the amount has reached 800,000 yuan ($130,500).
Guo Bin started rehabilitation therapy on Sunday, a relative said.
The suicide of Guo Bin's aunt on Saturday has sparked public suspicion that she might be the assailant, but Guo Zhiping said it was impossible because the two families are on good terms.
Jia Yading, head of Shanxi Eye Hospital, said the hospital has arranged the best doctors for the boy, and ocular prosthesis will be implanted in three months.
Psychological experts have also been contacted to provide counseling for the boy and his family members.
Meanwhile, Ming Pao Daily News, a Hong Kong newspaper, quoted local oculist Dennis Lam as saying that Guo Bin may regain his eyesight with electronic ocular prosthesis. The doctor added that he will perform an operation on Guo Bin for free.
A vice-president of a school for blind children in Taiyuan, surnamed Li, said that the school would accept Guo Bin and exempt his tuition fees if he wants to attend it.
Local police refused to disclose developments in their investigation.
Xinhua contributed to this story.
Contact the writers at houliqiang@chinadaily.com.cn and chenghong@chinadaily.com.cn

Editor's picks

Copyright 1995 - . All rights reserved. The content (including but not limited to text, photo, multimedia information, etc) published in this site belongs to China Daily Information Co (CDIC). Without written authorization from CDIC, such content shall not be republished or used in any form. Note: Browsers with 1024*768 or higher resolution are suggested for this site.
Registration Number: 130349