VP urges cooperation with Eurasia against terrorism
Cooperation is the only viable way to safeguard Eurasian countries' security in the face of transnational terrorist threats, Chinese Vice-President Li Yuanchao said on Monday.
"Given that terrorism, separatism and extremism are still quite rampant, there is a need for countries to combat them with continuing joint efforts," Li said at the opening ceremony of the third China-Eurasia Expo in Urumqi, capital of the Xinjiang Uygur autonomous region.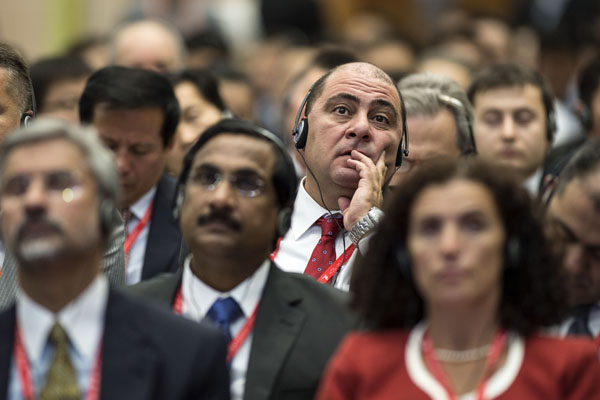 Participants listen to speeches delivered at the opening ceremony of the third China-Eurasia Expo as well as its economic development and cooperation forum in Urumqi, capital of the Xinjiang Uygur autonomous region, on Monday. Wang Fei / Xinhua
"Eurasian countries need to establish a new security concept, featuring mutual trust, mutual benefit, equality and coordination; and support each other on issues concerning core national interests, strengthen cooperation on major regional issues and jointly meet security challenges," he said.
Xinjiang borders eight Eurasian countries, including Kazakhstan, Tajikistan, Pakistan and Afghanistan, and it has been the major frontline of China's battle against terrorism. Xinjiang has been hit by a series of terrorist attacks since April this year.
Li said he hopes Eurasian countries will accelerate the construction of the new grand Eurasia passage and make the Eurasian Land Bridge a new pillar of development, including transportation, oil and gas pipelines, telecommunication cables, logistics and trade.
Russia and Turkmenistan's natural gas reserves account for more than half of the world's total, while Kazakhstan and Mongolia share the world's largest coal reserves, and Tajikistan and Kyrgyzstan are rich in water resources.
China and other emerging markets have high demand for the resources that Eurasian countries can supply, which creates opportunities for economic cooperation.
Li said China will work with Eurasian countries to speed up the construction of transportation projects such as the China-Europe road, the Tajikistan-China road, and the railway linking China with Kyrgyzstan and Uzbekistan.
China's trade with other Eurasian countries totaled $2.7 trillion in 2012, including nearly $400 billion between China and countries in Central, West and South Asia. Over the next five years, China is expected to import commodities worth $8 trillion from Asia and Europe and will invest more than $450 billion in Asia and Europe, which will provide new opportunities for Eurasian countries.
Li said China will continue to open up westward and make Xinjiang a more important hub on the Eurasian Land Bridge. Xinjiang's Kashgar and Horgos special economic zones now serve as the platforms of China's westward opening-up policies. Li also held separate talks with leaders from Tajikistan, Mongolia, Nepal and the United Nations Development Programme.
Before the opening ceremony of the China-Eurasia Expo, Li met on Monday morning with the visiting Kyrgyz delegation led by Prime Minister Zhantoro Satybaldiyev.
"The trip will inject new impetus into the thriving Sino-Kyrgyz cooperation," Li said. "Kyrgyzstan and China, especially China's western region, will greatly benefit from the visit and the expo." The visit was also an opportunity for the two countries to prepare for President Xi Jinping's upcoming visit to the four Central Asian countries, Li said.
Xi will pay a state visit to Kyrgyzstan in mid-September and attend the 13th Meeting of the Council of Heads of the Member States of the Shanghai Cooperation Organization on Sept 13 in Bishkek.
Kicking off his first trip to Central Asia since taking office, Xi leaves Beijing on Tuesday and will also visit Turkmenistan, Kazakhstan and Uzbekistan.
Satybaldiyev said that bilateral relations will embrace broader and brighter prospects as the two countries agree to further strengthen regional ties.
"As you can see from our large delegation, Kyrgyzstan always attaches great importance to building close relations with China. We share completely the same opinions with China over many international issues, and our people warmly welcome President Xi's visit," he said.

Editor's picks

Copyright 1995 - . All rights reserved. The content (including but not limited to text, photo, multimedia information, etc) published in this site belongs to China Daily Information Co (CDIC). Without written authorization from CDIC, such content shall not be republished or used in any form. Note: Browsers with 1024*768 or higher resolution are suggested for this site.
Registration Number: 130349