4th China city to offer 72-hour visa-free stays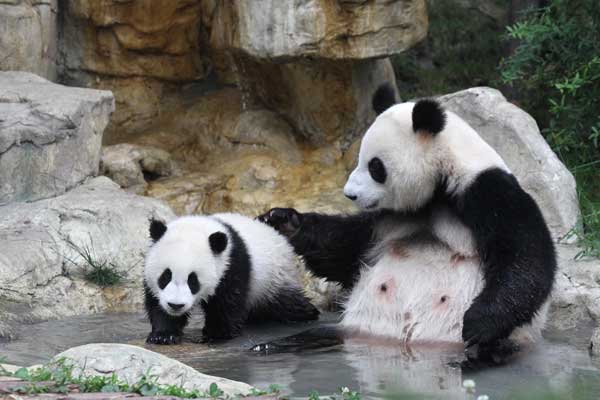 Pandas frolic at the Chengdu Research Base of Giant Panda Breeding in Sichuan province. Zhu Xingxin / China Daily
CHENGDU - Chengdu, capital of Southwest China's Sichuan province, will start offering international transit passengers 72-hour visa-free stays from Sunday.
Chengdu is the fourth city, and the first in western China, to introduce the visa-free policy, following Beijing, Shanghai and Guangzhou.
The visa-free scheme covers travelers from 45 countries, including the United States, Canada, France, Britain, Germany, Italy, Australia and Japan.
Travelers should hold third country visas and have booked plane tickets bound for the third country or region within 72 hours, Fu Yonglin, vice mayor of Chengdu, told a news briefing on Friday.
"The 72-hour visa-free policy shows the central government's support for Chengdu's openness," said Fu.
"A loose visa policy is a major sign of a city's openness," said Fu. "It also is an established practice internationally to boost tourism and business."
A total of 245 Fortune Global 500 companies have bases in Chengdu by the end of June, and the Chengdu Shuangliu International Airport had air services to more than 40 cities overseas. It handled 1.08 million entry and exit passengers in the first half of the year.
A Dell executive in Chengdu said the policy will make it convenient for foreigners to do business in the city and therefore Chengdu, and even the whole western market, could attract more foreign investment.
The free-visa policy should encourage more overseas tourists and business people to visit Chengdu, thus prompting more airlines to offer more air services, said Tang Jiqiang, a researcher at the Southwestern University of Finance and Economics.

Editor's picks

Copyright 1995 - . All rights reserved. The content (including but not limited to text, photo, multimedia information, etc) published in this site belongs to China Daily Information Co (CDIC). Without written authorization from CDIC, such content shall not be republished or used in any form. Note: Browsers with 1024*768 or higher resolution are suggested for this site.
Registration Number: 130349