China-Africa Economic and Trade Cooperation (2013)
I. Promoting Sustainable Development of Trade
Against the background of sluggish global economic recovery in recent years, China-Africa trade development has maintained comparatively rapid momentum. In 2009, China became Africa's No. 1 trade partner. In the following two years, the scale of China-Africa trade expanded rapidly. In 2012, the total volume of China-Africa trade reached US$198.49 billion, a year-on-year growth of 19.3%. Of this, US$85.319 billion consisted of China's exports to Africa, up 16.7%, and US$113.171 billion was contributed by China's imports from Africa, up 21.4%. Total China-Africa trade volume, China's export volume to Africa and China's import volume from Africa all reached new highs.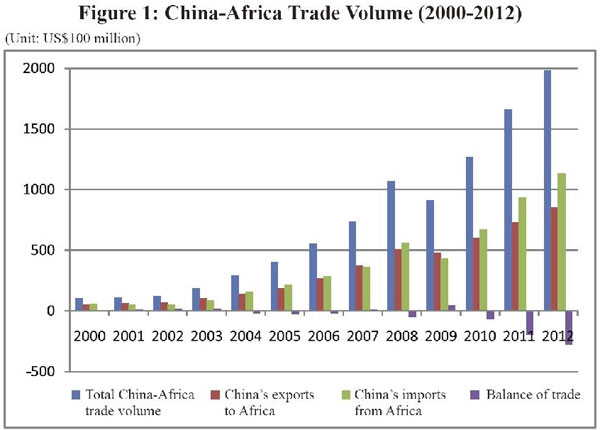 The graphic shows China-Africa trade volume from 2000 to 2012. [Photo/Xinhua]
As the volume of China-Africa trade continues to grow, its proportion to China's and Africa's respective total foreign trade volume has also increased. From 2000 to 2012, the proportion of China-Africa trade volume as a part of China's total foreign trade volume increased from 2.23% to 5.13%: the proportion consisting of China's imports from Africa up from 2.47% to 6.23%, and that of China's exports to Africa from 2.02% to 4.16%. On the African side, the changes are even more remarkable. From 2000 to 2012, the proportion of China-Africa trade volume as a part of Africa's total foreign trade volume increased from 3.82% to 16.13%: the proportion contributed by Africa's exports to China up from 3.76% to 18.07%, and that by Africa's imports from China from 3.88% to 14.11%.
Chinese products exported to Africa are generally of fine quality and well-priced, and fulfill the consumption demands of all social strata in Africa. With the scale of trade expanded, the structure of China-Africa trade has been improved step by step. As the consumption capacity of the African market continues to expand, the amount of technical products that China exports to Africa has increased remarkably. In 2012, the proportion of mechanical and electrical products as a part of China's total commodity exports to Africa reached 45.9%. In order to guarantee the quality of products exported to Africa, from December 2010 to March 2011, the Chinese side took special steps to crack down on the potential export to Africa of counterfeit and shoddy products and commodities that violated intellectual property rights. This involved multiple measures, such as prior-to-shipment quality examinations for industrial products that were to be exported to Africa. These measures helped guarantee the quality of Chinese commodities exported to Africa.
Over the past three years, China's import volume from Africa has increased notably, as the trade volume and quantity of bulk commodities, like crude oil and agricultural products, keep rising. Through China-Africa trade, Africa's exporters have obtained access to a stable market, higher pricing and greater benefits. In the meantime, China has vigorously expanded its imports from Africa by enacting tariff exemptions and setting up exhibition centers for African products. Since January 2012, the 30 least developed African countries that have established diplomatic relations with China have been granted zero-tariff treatment for 60% of their exported items. By the end of 2012, 22 of them had seen 910 million yuan worth of tariff exempted, involving US$1.49 billion-worth of goods. In May 2011, an African Products Exhibition Center opened in Yiwu City, Zhejiang Province. By reducing operation expenditures and other supportive policies, the Exhibition Center has attracted over 2,000 salable commodity items from more than 20 African countries.
Sino-African bilateral trade has great potential due to the complementary conditions on both sides, and is significant for the economic development of both China and Africa. China will take multiple measures to promote the healthy development of China-Africa trade. These include implementing the "Special Plan on Trade with Africa," which will expand the scope of zero tariff treatment for African products exported to China and increase China's imports from Africa, and improving the brand building, marketing channels and quality of China's commodities exported to Africa. In addition, China will help African countries improve their customs and commodity inspection facilities by mobilizing aid for trade, provide support for African countries to promote trade facilitation, and push forward trade development within Africa.

Editor's picks

Copyright 1995 - . All rights reserved. The content (including but not limited to text, photo, multimedia information, etc) published in this site belongs to China Daily Information Co (CDIC). Without written authorization from CDIC, such content shall not be republished or used in any form. Note: Browsers with 1024*768 or higher resolution are suggested for this site.
Registration Number: 130349