Rubber Duck in Beijing from September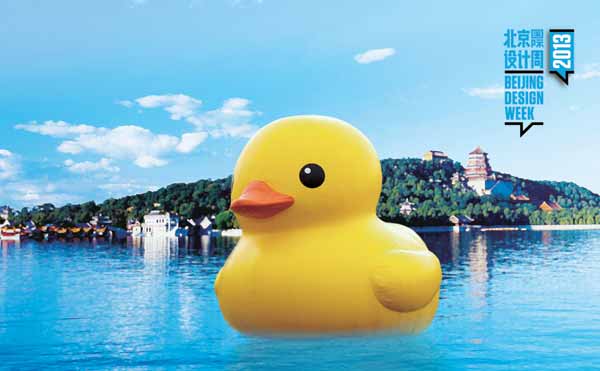 A giant rubber duck designed by Dutch artist Florentijn Hofman will be in Beijing from September to October, floating at Beijing's Garden Expo first and then at the Summer Palace, the Beijing Design Week organizing committee said on August 26.
It is the first time the rubber duck will be displayed on the Chinese mainland. The yellow conceptual art piece already attracted many Chinese fans when it floated in Hong Kong's Victoria harbor in May.
The rubber duck in Beijing will be 18-meters high, taller than the 16.5-meter version displayed in Hong Kong, said Zeng Hui, deputy director of the Beijing Design Week organizing committee office.
"In case the giant duck is deflated, we have made two rubber ducks," Zeng said.
The huge inflatable duck was reduced to a puddle of yellow plastic after it was displayed for two weeks in Hong Kong.
"The places we plan to install the rubber duck were mainly decided by the Dutch designer Hofman, and we just give him advice, " said Chen Dongliang, another deputy director of the Beijing Design Week organizing committee office.
According to Chen, the final choices of Beijing's Garden Expo and the Summer Palace as the duck's Beijing homes primarily lay in the size of the locations and whether they were typical enough of Beijing.
From Sept 6 to 23, people can view the duck at Beijing's Garden Expo, for an entry fee of 100 yuan, then from Sept 26 to Oct 26, the duck will be installed at the Summer Palace. Tickets for the Summer Palace cost 30 yuan.
The rubber duck is a gift to Beijing from Amsterdam — this year's Beijing Design Week Guest of Honor. The designer will visit Beijing for its launch day on Sept 6 at the Garden Expo, said Anouchka Driel, senior cultural affairs officer with the Embassy of the Kingdom of the Netherlands.

Editor's picks

Copyright 1995 - . All rights reserved. The content (including but not limited to text, photo, multimedia information, etc) published in this site belongs to China Daily Information Co (CDIC). Without written authorization from CDIC, such content shall not be republished or used in any form. Note: Browsers with 1024*768 or higher resolution are suggested for this site.
Registration Number: 130349