More flooding expected in Northeast
Torrential rains are expected to worsen conditions before Thursday in northeastern China, where the worst flooding in five decades has already left thousands of homes inundated, meteorological authorities warned.
The National Meteorological Center forecast on Tuesday that medium to heavy rain will batter the flood-hit Songhua River through Wednesday evening, which may challenge the local flood control capacity.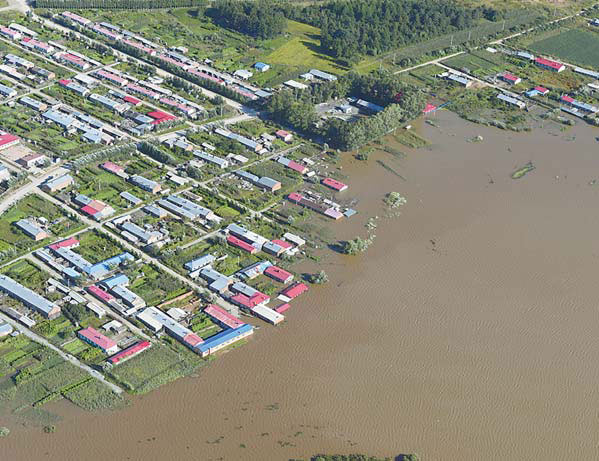 An aerial photo shows flood-hit villages in Tongjiang, Heilongjiang province, on Monday. Northeast China is battling its worst floods in five decades, caused by heavy rain since Aug 14. Yang Zaixin / China News Service
In Heilongjiang province, many rivers had burst banks, in some areas with water levels nearly 4 meters above the safety level on Tuesday, flood control experts said.
Authorities should make full preparations to avoid levee breaches, Dai Chunsheng, head of the provincial water conservancy and hydropower investigation and design institute, said in Heilongjiang Daily on Tuesday.
The State Flood Control and Drought Relief Headquarters also asked authorities in Heilongjiang and Jilin provinces to strengthen supervision and make every effort to guarantee residents' safety, according to a statement released by the headquarters on Monday.
On Monday, Premier Li Keqiang and his Russian counterpart Dmitry Medvedev agreed in a phone conversation on mutual assistance to fight the flooding in both countries.
It was their second phone conversation in less than a week as the two countries battle devastating floods in eastern Russia and northeastern China this month.
Li said their close contact and cooperation on disaster prevention and relief along the Heilong River, known as the Amur in Russia, demonstrated an elevated level of the China-Russia comprehensive strategic partnership.
He added that he hopes Russia will exploit the advantage of its upstream reservoir to cut the flood's crest and scale down the floods.
China would offer necessary help to Russia's disaster relief efforts, Li said, expressing the hope that the two countries can work together to keep the flood damage to a minimum.
In Northeast China's Liaoning, Jilin and Heilongjiang provinces, the heartland of the country's grain production, flooding had claimed at least 85 lives and left 105 missing as of Aug 20 due to persistent downpours since Aug 14.
Hardest hit was Fushun, Liaoning, with 76 dead and 88 missing. A memorial service for the victims was held in the city on Saturday.
More than 1.25 million people in Heilongjiang had participated in relief and rescue operations as of Sunday, according to the State Flood Control and Drought Relief Headquarters.
Floods triggered by rainstorms also hit Henan, Yunnan, Sichuan, Anhui and Gansu provinces in the past few days, leaving at least nine dead and two missing as of Tuesday, according to the Ministry of Civil Affairs.
Xinhua contributed to this story.

Editor's picks

Copyright 1995 - . All rights reserved. The content (including but not limited to text, photo, multimedia information, etc) published in this site belongs to China Daily Information Co (CDIC). Without written authorization from CDIC, such content shall not be republished or used in any form. Note: Browsers with 1024*768 or higher resolution are suggested for this site.
Registration Number: 130349