Cancer patient delivers healthy baby
A pregnant woman diagnosed with cervical cancer has delivered a healthy baby girl, thanks to a high-risk surgery carried out in the 18th week of her pregnancy. It is one of a handful of such surgeries successfully completed internationally. Wang Hongyi reports in Shanghai.
Awoman with cervical cancer gave birth to a healthy baby girl thanks to a successful high-risk surgery when she was 18 weeks pregnant, carried out at the Obstetrics and Gynecology Hospital of Fudan University in Shanghai.
The patient is a 25-year-old woman from Zhejiang province. The woman had begun to bleed in March, during the 16th week of pregnancy. She went to seek treatment and was diagnosed with cervical cancer.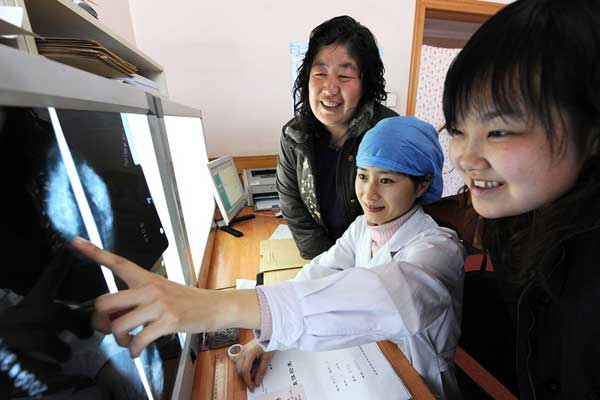 More women are offered free cervical cancer screening tests as the government launches more projects nationwide to fight the disease.Shou yiren / Asianewsphoto
The woman had visited a number of hospitals, and almost every doctor had recommended she terminate the pregnancy and remove her cervix and womb, but she insisted on keeping her baby.
Doctors said the detection of cervical cancer during pregnancy is about one in 10,000 women.
"The common way to treat pregnant woman with cervical cancer is to give up the fetus or to undergo open surgery to try to keep the baby," says Hua Keqin, gynecological expert at the Obstetrics and Gynecology Hospital of Fudan University in Shanghai.
Because of the patient's insistence, doctors from the hospital chose to carry out minimally invasive surgery with a laparoscope, otherwise known as key-hole surgery.
"It would be easier for doctors to perform open surgery, such as abdominal surgery, but the risk to the fetus increases," says Hua. "Considering the patient's condition, we finally decided to carry out the surgery with a laparoscope, which was expected to have minimal impact on the woman and the fetus," Hua explains.
There have only been a few cases internationally where cancer surgery has been carried out and the fetus saved. There is a 40-percent possibility of miscarriage, and the possibility of live delivery is also extremely low, according to Hua.
"Before the procedure, we looked through many documentaries and files. Only five similar surgeries have been recorded in the world, and they were performed through the abdomen or the vagina," Hua says.
"So in terms of the surgery's form and method, it is the first time to use laparoscope to finish such a procedure," she says.
On March 21, when the woman was 18 weeks pregnant, doctors carried out surgery to remove the patient's cervix while keeping the fetus.
The fetus continued to develop in the mother's womb, and various prenatal checks showed the fetus was in a healthy condition.
In the following three months, doctors continued to control the spread of cancerous cells through chemotherapy, without harming the fetus.
On July 6, the woman delivered a healthy girl weighing 1.75 kg through a Cesarean section.
The woman had surgery to remove her womb after giving birth.
Hua says the woman will continue to receive chemotherapy and radiotherapy, but the cancer cells have not spread.
In China, cervical cancer is second only to breast cancer as the most common form of cancer among women. About 13,200 new cases are detected each year, and about 30,000 women die of cervical cancer, according to the National Health and Family Planning Commission.
Meanwhile, there are increasing incidences of the cancer among younger women.
Cervical cancer is a malignant neoplasm arising from cells originating in the cervix uteri. It is believed to be caused by the Human Papillomavirus (HPV), which is a factor in the development of over 90 percent of cervical cancer cases.
"In the 1980s, less than 5 percent of women infected with HPV were under the age of 35, now the proportion is rising to 30 percent," says Lang Jinghe, a gynecologist at the Peking Union Medical College Hospital.
The likelihood of a cure is high if the cancer is detected in the early stages. The most common screening methods to detect cervical changes that may lead to cervical cancer include the Pap smear test and HPV testing. Regular screenings may help detect cancers early, when they are most treatable.
In developed countries, the incidence of cervical cancer has been well-managed and controlled thanks to early screening and other efforts. The incidence of cervical cancer in China is five to six times than in developed countries, experts say.
Cervical cancer can be cured if detected in the early stages. For women of childbearing age, their fertility can be preserved after surgery, according to Wu Xiaohua, a professor at the Department of Gynecologic Oncology of Shanghai Cancer Hospital affiliated to Fudan University.
Wu is one of the country's first to carry out abdominal radical trachelectomy, one of the fertility-sparing procedures in women with early-stage cervical cancer.
Since 2004, he has successfully completed 160 such surgeries. The average age of the 160 patients is 28, and so far, six women have given birth to a child after the surgery.



Editor's picks

Copyright 1995 - . All rights reserved. The content (including but not limited to text, photo, multimedia information, etc) published in this site belongs to China Daily Information Co (CDIC). Without written authorization from CDIC, such content shall not be republished or used in any form. Note: Browsers with 1024*768 or higher resolution are suggested for this site.
Registration Number: 130349