Bo stands trial for bribery, embezzlement, abuse of power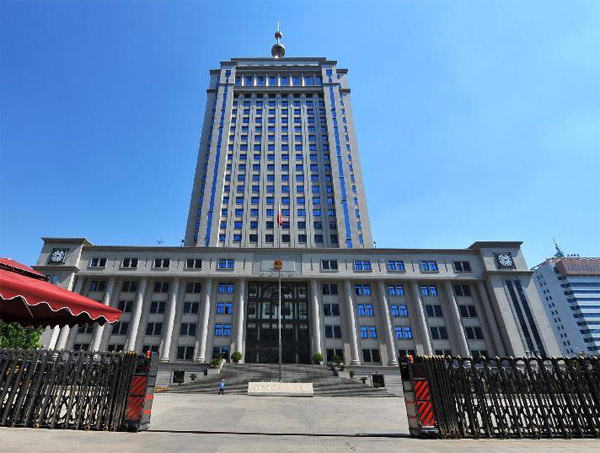 Photo taken on Aug 21, 2013 shows the Jinan Intermediate People's Court, in Jinan, East China's Shandong province. [Photo/Xinhua] 
JINAN - The trial of Bo Xilai, former Communist Party of China (CPC) chief of Chongqing Municipal Committee, opened Thursday morning at Jinan Intermediate People's Court in east China's Shandong Province.
Bo faces charges of taking bribes, embezzlement and abuse of power.
According to the indictment, from 1999 to 2012, Bo was asked by Tang Xiaolin, general manager of Dalian International Development Co. Ltd, and Xu Ming, chairman of Dalian Shide Group Co. Ltd, to provide help for related parties and individuals to obtain preferential quotas to import cars and work on petrochemical projects, and Bo took advantage of his posts as mayor of Dalian, secretary of CPC Dalian committee, governor of Liaoning Province and Minister of Commerce in doing so.
In return, Bo accepted bribes worth about 21.8 million yuan (about 3.5 million U.S. dollars) from Tang and Xu directly, or through his wife Bogu Kailai and his son Bo Guagua. "The amount was especially huge," the indictment said.
In 2002, while serving as governor of Liaoning Province, Bo used his post to conspire with others to embezzle five million yuan of public funds from the Dalian government.
"The sum was huge," said the indictment.
In January and February of 2012, while serving as secretary of CPC Chongqing Municipal Committee, Bo abused his power when it was reported that Bogu Kailai was suspected of intentional homicide, and when then vice mayor of Chongqing Wang Lijun defected, the indictment said.
Further abuses of power include impeding the reinvestigation of Bogu Kailai's case and approving the release of false news that Wang was receiving "vocation-style treatment."
Bo's actions caused delays to the reinvestigation and led to Wang's defection. His behavior has had a severe social impact and damaged both the country and people's interests. Bo shall bear criminal responsibility for taking bribes, embezzlement and abuse of power, said the indictment.
Bo made a statement denying the charge of bribery.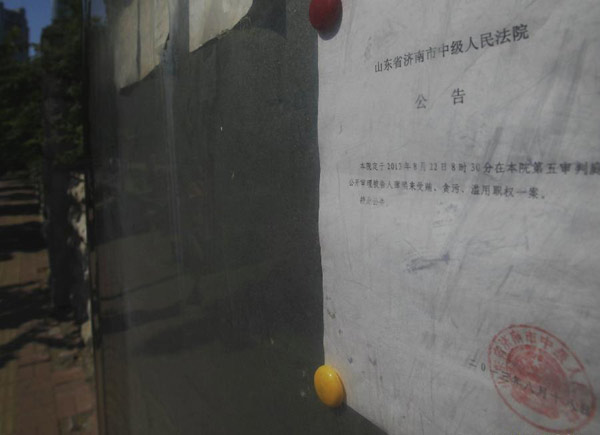 Photo taken on Aug 21, 2013 shows the announcement about Bo Xilai's trial at the Jinan Intermediate People's Court, in Jinan, East China's Shandong province. [Photo/Xinhua]
Prosecutors and defense lawyers questioned and cross examined both the accused and witness Xu Ming who gave testimony in court.
Prosecutors presented documentary evidence and witness testimony, together with video and audio materials of the examination of witnesses.
The court approved all applications by Bo, who was emotionally stable and physically healthy during the trial, to express his views.
The presiding judge announced an adjournment at about 6 p.m.. The hearing will continue on Friday.
The trial, which opened at 8:43 a.m. on Thursday, was attended by relatives of Bo, lawmakers and political advisors, as well as journalists and people from all walks of life.
The official microblog account of the court updated the trial proceedings.
During the adjournments in the morning and afternoon, the spokesman for the court briefed the media on the proceedings.

Editor's picks

Copyright 1995 - . All rights reserved. The content (including but not limited to text, photo, multimedia information, etc) published in this site belongs to China Daily Information Co (CDIC). Without written authorization from CDIC, such content shall not be republished or used in any form. Note: Browsers with 1024*768 or higher resolution are suggested for this site.
Registration Number: 130349