FM calls for closer Cambodia relations
Analysts: Visit shows importance Beijing attaches to bilateral ties with Southeast Asian country
Chinese Foreign Minister Wang Yi met Cambodian leaders to discuss closer bilateral ties on Wednesday during a whirlwind visit to the country, marking China's latest effort to boost cooperation with neighboring Southeast Asian nations.
The purpose of the 14-hour visit was to strengthen the comprehensive strategic partnership and to emphasize China's intention to promote bilateral ties, Wang told Cambodian Prime Minister Hun Sen.
Wang, on his first visit to Cambodia since its general election in July, also congratulated Hun Sen, who won the election, and said he hoped that Cambodia's political parties will peacefully resolve their remaining electoral issues.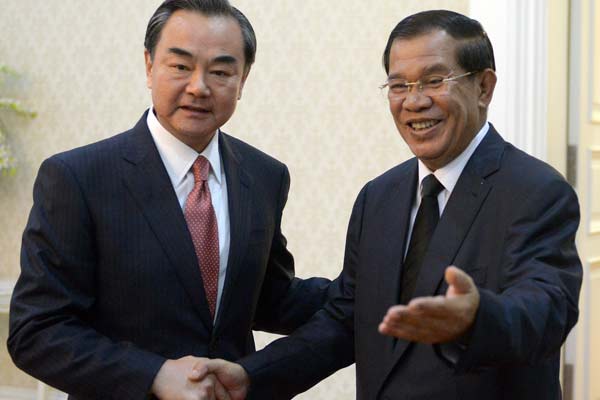 Chinese Foreign Minister Wang Yi (left) meets Cambodian Prime Minister Hun Sen at the Peace Palace in Phnom Penh on Wednesday. Wang Yi arrived in Cambodia on Tuesday for an official visit. [TANG CHHIN SOTHY / Agence France-Presse]
The prime minister's party — the Cambodian People's Party — won the election with more than half the votes, but the main opposition party rejected the result. Cambodia's National Election Committee is still discussing the case and will officially announce the election results on Sept 8.
Wang's visit shows that China values peace and stability in Cambodia, which is in line with the interests of all regional players, analysts said.
"China does not want to interfere with Cambodian internal affairs such as the election, but Wang's visit will exert a positive influence on the country's situation after the election", said Xu Liping, a researcher on Asia-Pacific studies at the Chinese Academy of Social Sciences.
Wang paid visits to Southeast Asian countries at the beginning of August, when Cambodia was busy with its election.
Wang's visit after the election shows the great importance China attaches to bilateral ties, Xu said.
Contentious claims on the election results could bring instability to the country, and the price would be too high, said Song Yinghui, a researcher on Southeast Asian studies at the China Institutes of Contemporary International Relations.
But as an experienced statesman, Hun Sen is capable of handling the situation and finding a peaceful solution, she said.
China attaches increased importance to the neighboring Southeast Asian countries since the new leadership took office in March. As China's new foreign minister, Wang paid four visits to seven regional countries in the Association of Southeast Asian Nations.
In Brunei, economics ministers from 10 ASEAN countries issued a statement on Wednesday saying that they appreciate China's proposal to create an upgraded free trade agreement, and that ASEAN "welcomes the intent for the overall enhancement of the ASEAN-China Free Trade Area".
They made the remarks during a forum at which economics ministers from China and ASEAN members held discussions on regional cooperation.
The ministers expressed satisfaction with the ACFTA Joint Committee's ongoing efforts in upgrading the ACFTA agreements to ensure that it remains dynamic.
With objectives of the ACFTA almost realized, efforts should now be directed toward facilitating ASEAN-China trade and improving ACFTA through the ongoing review of the sensitive lists and rules of origin, the ministers said.
Xinhua contributed to this story.

Editor's picks

Copyright 1995 - . All rights reserved. The content (including but not limited to text, photo, multimedia information, etc) published in this site belongs to China Daily Information Co (CDIC). Without written authorization from CDIC, such content shall not be republished or used in any form. Note: Browsers with 1024*768 or higher resolution are suggested for this site.
Registration Number: 130349