21 dead in NW China rainstorm-triggered flood
XINING - Twenty-one people were killed and three others remain missing after a rainstorm-triggered flood in Northwest China's Qinghai province, said local authorities on Wednesday.
Sudden rainstorms and hail battered Wulan county in Mongolian-Tibetan autonomous prefecture of Haixi around 7 pm Tuesday, washing away more than 20 workers, said the county government.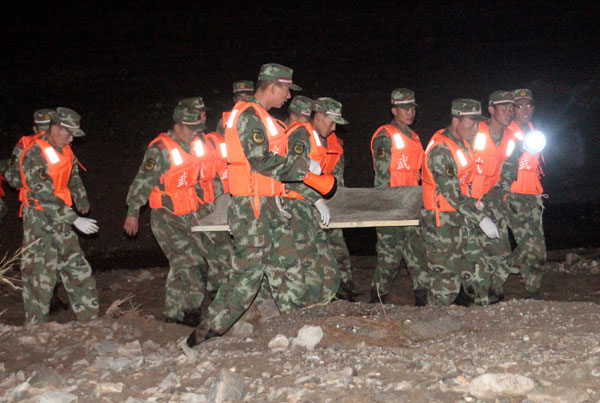 Rescue workers take an injured person to safety, in Wulan county, Qinghai province, Aug 21, 2013. [Photo/Asianewsphoto]
The workers were repairing a construction site at the time when the tragedy happened.
As of Wednesday morning, 21 people have been confirmed dead and seven others have been sent to a local hospital for injuries.
The search for three missing people is under way.

Editor's picks

Copyright 1995 - . All rights reserved. The content (including but not limited to text, photo, multimedia information, etc) published in this site belongs to China Daily Information Co (CDIC). Without written authorization from CDIC, such content shall not be republished or used in any form. Note: Browsers with 1024*768 or higher resolution are suggested for this site.
Registration Number: 130349