Chinese characters under threat in digital age
China's cultural reach is growing every year — but is one of its most-treasured traditions under threat on its own shores?
One calligraphy master believes so, and warns that the skill of writing Chinese characters, or hanzi, is being affected by growing reliance on digital technology.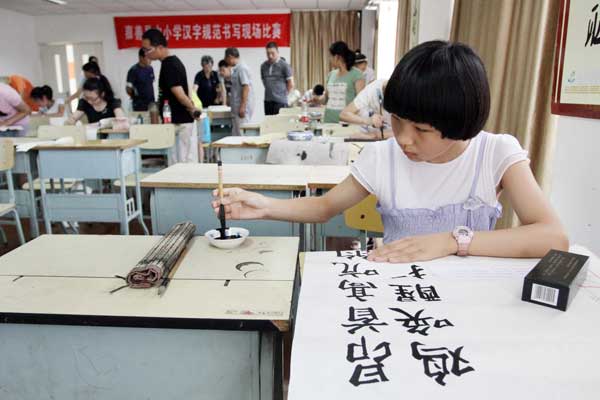 A student takes part in a calligraphy competition in Jiashan county, Zhejiang province, in August. Ten of the 50 participants will go to Jiaxing for a follow-up competition. Hu Lingxiang / for China Daily
"The style of writing among Chinese people today has been changed or ruined," said Cui Zhiqiang, a senior figure with the China Calligraphers Association.
The 60-year-old said the rapid development and popularity of cellphones and computers mean most people now write Chinese on keyboards using pinyin, words are written in a system which characters are rendered in the Roman alphabet.
A standard Chinese phrase can be written as numbers, symbols or a phonetic translation from English, he said, while netizens also use words that sound the same but are written differently to disguise what they really mean.
"In these ways, the features of a Chinese character, such as its structure and meaning, can be easily forgotten or misunderstood," Cui said. "As a result, many people find they have forgotten how to write a character when picking up a pen and often make mistakes.
"It is an existential crisis for Chinese characters," he added.
The association started holding nationwide calligraphy tests in 2010. Carried out in more than 10 stages, candidates must use hard or soft brushes.
Between 60,000 and 70,000 people register every year, and organizers expect that number to reach more than 100,000 within the next five years.
"These tests are not to train top calligraphers, they are aimed at trying to rescue people's penmanship, which has been ruined by wide use of keyboards," Cui said.
Training teachers
The China Calligraphers Association is also working to train more teachers, to improve professional standards.
In 2011, the Ministry of Education required all primary schools to hold a calligraphy class once a week as well as calling for related courses at high school.
Experts said the move represented concern among educators about the increasing number of students who are losing the ability to correctly write Chinese characters with a brush, or even a pen.
"Shortly after the ministry's stipulation, however, many schools found they did not have enough qualified calligraphy teachers," Cui said. "Many classes had to be taught by physical education teachers."
The association coaches 300 to 400 elementary and middle school teachers in calligraphy each year, and it hopes to have trained 20,000 more in the next three years.
Xu Wei, from Huayuancun No 2 Primary School in Beijing, gained a certificate for teaching calligraphy in June.
"I'm an art teacher, but for many years calligraphy has been a hobby of mine," he said. "I learned how to copy and appreciate the art form for the exam. It's really been useful for my practical teaching."
He said more and more students tend to scribble when they write because they always have lots of homework, which has caused a decline in handwriting. "I believe my calligraphy class helps remind them not to brush off their writing."
Early education
Parents are also beginning to realize the importance of teaching children calligraphy at an early age, said Ji Jiejing, who is head of ancient Chinese civilization studies at the Beijing Confucian Temple and Imperial College.
"Mostly it is those who are really into Chinese traditional culture," she said. "Generally, people send their children to calligraphy classes far less than to English or Math Olympiad classes."
The college, which was the central institute of learning for ancient Chinese dynasties, has run calligraphy courses for children aged 5 to 16 since 2007.
The classrooms are in an institute emperors frequently visited to read Confucian classics, which is meant to bring children back to ancient times and appreciate traditional culture, Ji said.
Gao Tianchen, a calligraphy teacher at the Imperial College, said in his class, children write characters with soft brushes to the sounds of the guqin, a traditional seven-stringed instrument.
"Before teaching a Chinese character, I show students every major change on its pattern and structure in history and tell children the stories behind the changes," he said.
His teaching focuses on helping children memorize the structure of a character and understand its meaning, rather than studying in pinyin.
"That way the students can better remember Chinese characters when they grow up, even though they are using a keyboard every day," he added.
Yang Fei said the improvement of her 8-year-old son's handwriting after the class was far beyond her expectations.
"My son wrote the character shou, meaning longevity, as a birthday gift for his grandmother last year," she said. "I realized then that he'd come to understand filial piety through the characters.
"The meaning would have been lost if he'd just typed it in pinyin," she added.



Editor's picks

Copyright 1995 - . All rights reserved. The content (including but not limited to text, photo, multimedia information, etc) published in this site belongs to China Daily Information Co (CDIC). Without written authorization from CDIC, such content shall not be republished or used in any form. Note: Browsers with 1024*768 or higher resolution are suggested for this site.
Registration Number: 130349