China Telecom, Netease jointly launch mobile chat app
Firms to take on Tencent's WeChat by launching mobile chat app
China Telecom Corp Ltd, the nation's biggest fixed line network operator and third-largest mobile service provider, formed a joint venture with Chinese Internet company NetEase Inc on Monday to launch a mobile chatting tool called Yixin.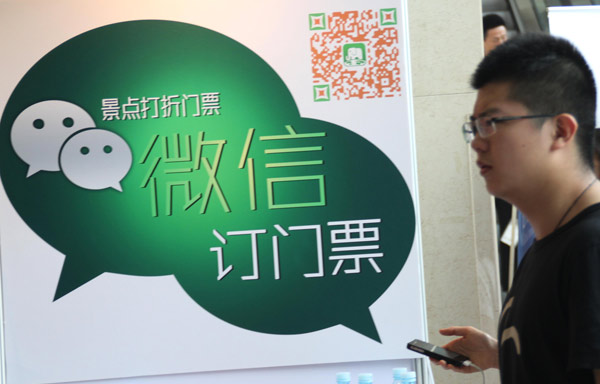 Tencent Holdings Ltd said in its earnings report last week that its WeChat messaging application had 236 million monthly active users - nearly triple the number from a year earlier. Provided to China Daily
The move signifies the birth of the world's first joint venture set up by a telecommunications operator and an Internet company. Analysts pointed out that the convergence between telecom and Internet industry will become a trend, because both parties are trying vigorously to explore business opportunities in the mobile Internet sector.
China Telecom holds the major stake - 73 percent - in the joint venture that is called Zhejiang Yixin Technology Co, while NetEase has the remaining stake. The joint venture has a registered capital of 200 million yuan ($32.43 million) and is responsible for the development and operations of newly launched mobile messaging application Yixin.
Officials from both China Telecom and Nasdaq-listed NetEase did not avoid talking about Yixin's ambition to grab shares from the market's dominant player - Tencent Holdings Ltd's WeChat.
In addition to standard features such as push-to-talk voice messages and photo sharing, the biggest difference between Yixin and WeChat, is that the former is capable of sending free text and voice messages to any mobile phone users, whether the receivers have installed the Yixin app or not.
Yang Jie, general manager of China Telecom, said Yixin combines the resources of NetEase and China Telecom. "Therefore, Yixin has natural advantages over rivals in the first place and can offer differentiated services," Yang said.
William Ding, founder and chief executive officer of NetEase, said the domestic mobile instant-messaging market is far from saturated. "The market competition is not sufficient. Both users and the market need more choice," Ding said in a statement. The young generation, in particular, demand fashionable and personalized communications methods. That's the opportunity for Yixin, he added.
Tencent said in its earnings report last week that its WeChat messaging application had 236 million monthly active users - nearly triple the number from a year earlier. Miliao, another market player developed by smartphone company Xiaomi Corp in 2010, has more than 40 million registered users and a daily active user base of about 4 million.
Zhang Zheng, former head of NetEase's marketing department and now general manager of Zhejiang Yixin Technology, said Yixin aims to have more than 100 million registered users within six months, with an active user base of more than 50 million.
"We hope Yixin can acquire more than half of the mobile messaging market in China," Zhang said at a Beijing briefing on Monday.
Yixin supports both Apple Inc's iOS platform and Google Inc's Android mobile operating system and was available for download from various application stores from Monday.
"It will become a trend that Chinese telecom operators and Internet companies strengthen ties," said Duan Yu, an analyst with Minsheng Securities. Telecom operators hold resources of network infrastructure but are not responsive to the market demands of innovative mobile services.
On the other hand, Internet companies are fast to respond to service requests but they need strong hardware support from the carrier side, Duan said.
Quarrels broke out between Chinese telecom carriers and WeChat on profit-split issues at the beginning of this year, signifying increasing conflicts between telecom operators and OTT service providers. But the two sides seemed to reach a consensus to phase out the anger by turning to win-win solutions.
In July, China Unicom (Hong Kong) Ltd's Guangdong branch joined hands with Tencent to launch the nation's first subscriber identification module card customized for WeChat.
China Telecom's Yang said the cooperation with NetEase was an important move for its strategic transformation. "We will follow the trend, actively embrace changes and move forward into the mobile Internet era," said Yang.
Ding from NetEase said: "Amid the wave of mobile Internet, all the Internet and telecom industries are restructuring."
Duan at Minsheng Securities estimated that Internet companies may have a bigger say in cooperation with telecom carriers in the future. "When Internet enterprises develop popular applications and accumulate large customer bases, they'll leverage the weight to ask for more favorable offers from carriers," Ding said.
China Mobile Ltd, the nation's largest telecom operator, launched mobile messaging application Jego in June but suspended the service three weeks later.
Contact the writer at shenjingting@chinadaily.com.cn

Editor's picks

Copyright 1995 - . All rights reserved. The content (including but not limited to text, photo, multimedia information, etc) published in this site belongs to China Daily Information Co (CDIC). Without written authorization from CDIC, such content shall not be republished or used in any form. Note: Browsers with 1024*768 or higher resolution are suggested for this site.
Registration Number: 130349