PLA aerobatic team to perform in Russia
Moscow show marks first overseas performance in its 51-year existence
The August 1st Air Demonstration Team, China's first and best-known aerobatic flight display team, will stage its first overseas show in Moscow with J-10 jet fighters, which will fly outside China for the first time.
An unidentified number of J-10s from the aerobatic team left an airbase in northern China on Sunday morning and began their journey to Russia, according to a statement on the Defense Ministry's website on Monday.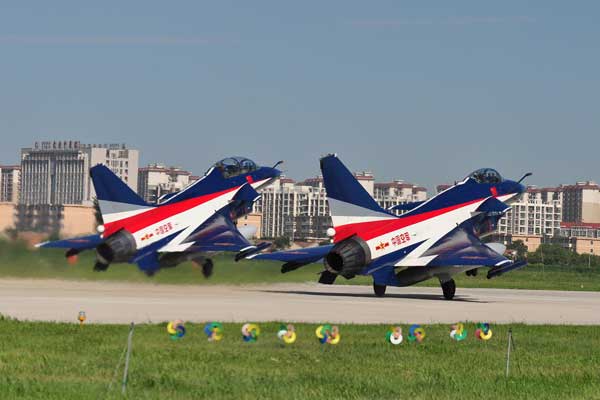 Two J-10 fighters with the PLA August 1st Air Demonstration Team take off from an airport in northern China on Sunday en route to the MAKS 2013 International Air Show. The team will fly in its first overseas performance in its 51-year existence. Zhang Pengyan / FOR CHINA DAILY
The team will join its Russian counterpart at the MAKS 2013 International Air Show at Ramenskoye Airport from Aug 27 to Sept 1.
The J-10s will make stops on their way to Moscow, said a publicity official with the People's Liberation Army air force who is familiar with the mission and refused to be named.
Since it was established 51 years ago, the August 1st Air Demonstration Team, named after the date of the founding of the PLA, has presented more than 500 shows for 668 delegations from 166 countries and regions, but the Moscow tour marks the team's first show abroad, the statement said.
The team was initially equipped with J-5s and has been gradually updating the fleet. The home-built J-10 fighters made their initial appearance at the 7th China International Aviation and Aerospace Exhibition, also known as the Zhuhai Air Show, in 2008.
The participation will help strengthen political ties, military trust and cooperation between the militaries of China and Russia, said Lieutenant General Zhuang Kezhu, commander of the air force of the Beijing Military Command.
Colonel Cao Zhen, commander of the August 1st team, told PLA Daily that its pilots have designed and practiced 21 maneuvers in accordance with the geographic characteristics of Ramenskoye Airport and the Russians' requests, and that the team has also prepared three show plans for different weather conditions.
Sponsoring the journey to Russia are three Russian state-run defense companies, the Russian newspaper Kommersant reported on Wednesday.
Rostec, United Aircraft Corp and Tactical Missiles Corp will provide 28 million roubles ($850,000) to the team to cover the cost of sending the J-10s to perform in Russia, the report said.
Wang Ya'nan, deputy editor-in-chief of Aerospace Knowledge magazine, said since this will be the first show for the August 1st team in a foreign country, it will test its capabilities in long-range flight, long-distance logistic support and communication with a foreign military.
"The pilots will perform in a place that they are not familiar with and deal with different procedures, so this is definitely a good opportunity for them to improve and evaluate their skills," he said. Chinese pilots should take advantage of the opportunity to communicate more with their foreign counterparts, he added.
The overseas debut of the J-10 will promote the possibility of its export, Wang said.
"Allowing the aircraft to fly in a foreign country signals that China is willing to present the J-10 to international clients as a mature and proven platform. I think it has become more likely that Chinese leaders will approve its export," he said.
Cheng Fubo, chairman of Chengdu Aircraft Industry Group, a subsidiary of Aviation Industry Corp of China, is happy about the J-10s being in the air show.
"As developers and manufacturers of the J-10, we are very proud to see the fighter jet, which is like our child, fly with our air force to stage shows in foreign airspace," Cheng said.
"I am convinced that the J-10, an advanced fighter jet indigenously developed by China, is able to rival any aircraft of its type and I hope more and more of our advanced aircraft can perform at foreign shows to bring glory to our nation," he added.
In addition to the August 1st team, China has two other aerobatic demonstration teams, Sky Wing and Red Falcon. Both were founded in 2011 and belong to two flight-training institutes of the PLA air force.

Editor's picks

Copyright 1995 - . All rights reserved. The content (including but not limited to text, photo, multimedia information, etc) published in this site belongs to China Daily Information Co (CDIC). Without written authorization from CDIC, such content shall not be republished or used in any form. Note: Browsers with 1024*768 or higher resolution are suggested for this site.
Registration Number: 130349