Fearless Gran's video for gay grandson goes viral
A video of a 90-year-old grandmother supporting her gay grandson and calling for the legalization of gay marriage has gone viral online.
In the 45-second video, the grandmother holds a card calling for the legalization of gay marriage and she explains her grandson's sexuality.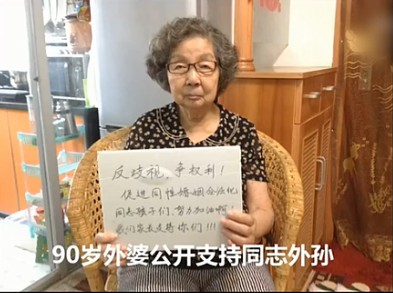 A screenshot of the video from youku.com.
In a strong Fuzhou dialect she said, "I'm 90 years old. My grandson is gay. He is very dutiful and sensible. I love him dearly. I hope he finds a good boyfriend and lives a happy life, and I hope that the government supports him."
The grandson said last year he opened up about his sex orientation to his parents who did not accept it, but his grandmother offer her full support and tried to persuade the parents to accept it.
The video has whizzed around the Internet with many supporting the grandmother's move.

Editor's picks

Copyright 1995 - . All rights reserved. The content (including but not limited to text, photo, multimedia information, etc) published in this site belongs to China Daily Information Co (CDIC). Without written authorization from CDIC, such content shall not be republished or used in any form. Note: Browsers with 1024*768 or higher resolution are suggested for this site.
Registration Number: 130349