Typhoon Utor leaves 4 dead, 4 missing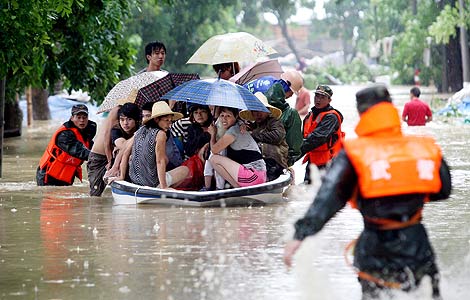 Rescuers help people affected by the typhoon move to a safer place in Wuchuan, Guangdong province, Aug 16, 2013. [Photo/Xinhua]
GUANGZHOU - Four people have died and four others remain missing following continuous downpours brought by Typhoon Utor in south China's Guangdong province, according to local authorities.
More than 2.5 million people have been affected by the typhoon, the provincial flood control and drought relief headquarters said, adding that 321,500 people have been relocated.
The headquarters said the rain has also damaged 173,333 hectares of farmland and destroyed 3,989 houses.
Water levels on local reservoirs and rivers have exceeded safe levels, the headquarters said.
The rain is expected to continue in most parts of Guangdong for the next two days, the headquarters said.

Editor's picks

Copyright 1995 - . All rights reserved. The content (including but not limited to text, photo, multimedia information, etc) published in this site belongs to China Daily Information Co (CDIC). Without written authorization from CDIC, such content shall not be republished or used in any form. Note: Browsers with 1024*768 or higher resolution are suggested for this site.
Registration Number: 130349