Chinese, Egyptian FMs discuss Egypt's situation over phone
BEIJING - Chinese Foreign Minister Wang Yi held telephone talks Friday with his Egyptian counterpart Nabil Fahmy over the violence in Egypt.
Briefing Wang on the current situation in Egypt, Fahmy said that the Egyptian government will strive to achieve reconciliation through dialogue and formulate an interim political roadmap.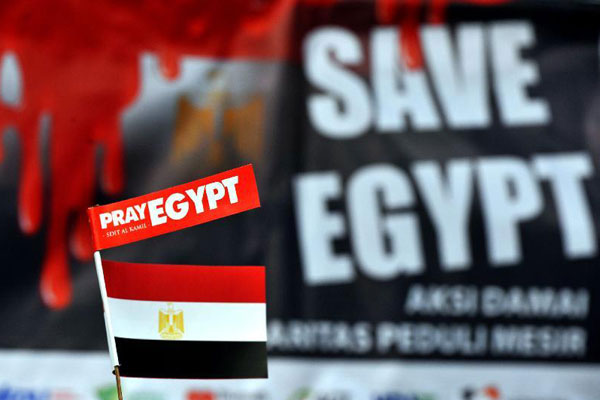 An Egyptian national flag is seen during a rally protesting the deadly violence in Egypt at United Nation representative office in Jakarta, Indonesia, Aug 16, 2013.[Photo/Xinhua]
Reaffirming China's position on violent conflicts that have occurred in Egypt, Wang, for his part, said that China is closely following the development of the situation in Egypt.
It is the top priority that all parties concerned in Egypt proceed from the general interests of the nation and people, and exercise maximum restraint so as to prevent the conflicts from further escalating, Wang said.
The Chinese foreign minister voiced hope that the Egyptian government will adopt further measures to ensure the security of Chinese institutions and enterprises as well as Chinese nationals.
More than 500 people have been killed and 3,000 others injured in clashes between the Egyptian security forces and Muslim Brotherhood supporters since Wednesday.
Egypt has declared a state of emergency for one month and imposed a curfew in a number of turmoil-hit provinces including Cairo, Alexandria, North and South Sinai.

Editor's picks

Copyright 1995 - . All rights reserved. The content (including but not limited to text, photo, multimedia information, etc) published in this site belongs to China Daily Information Co (CDIC). Without written authorization from CDIC, such content shall not be republished or used in any form. Note: Browsers with 1024*768 or higher resolution are suggested for this site.
Registration Number: 130349