Typhoon Utor drowns S China, causing casualties
GUANGZHOU -- At least one person was confirmed dead and five others missing as Typhoon Utor churned through south China on Wednesday bringing high winds and torrential rain.
Disaster relief authorities in Maoming City, Guangdong Province, said the typhoon triggered flooding and mountain torrents, which led to the casualties.
More than 88,000 residents were evacuated from the city before Utor hit on Wednesday.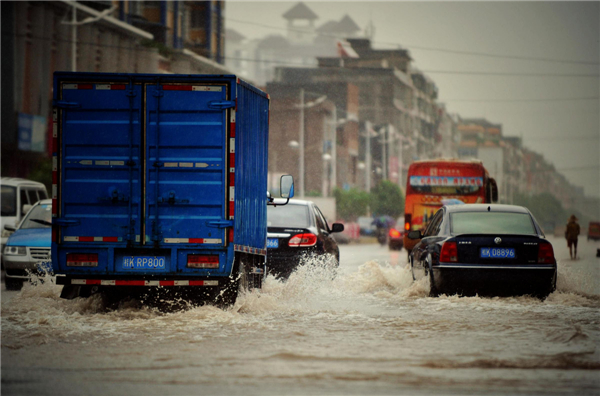 Cars splash through waterlogged streets as Tyohoon Utor brings torrential rain to Yulin city, South China's Guangxi Zhuang autonomous region on Aug 15. Meteorological forecasts say the heavy rain may continue until Aug 16. [Photo/Xinhua]
In Zhanjiang and Wuchuan, several villages were flooded as embankments along the swollen Quehua River were breached on Wednesday. Some 400 armed police are involved in the rescue efforts.
Utor was the strongest typhoon of the year before it crossed the Philippines earlier this week, leaving at least seven people dead and four missing.
It made landfall at 3:50 pm Wednesday near the city of Yangjiang in western Guangdong, packing winds of over 150 km per hour at the storm center, bringing heavy rains and strong gales, local meteorological authorities said.
It moved into Guangxi Zhuang autonomous region on Wednesday night and is expected to linger there for about four days.
On Thursday, the railways bureau in Nanning, Guangxi's capital, announced that sections of the track linking the region to Hunan province collapsed when foundation were soaked by heavy rain.
Passenger services on the line were suspended on Wednesday but resumed  gradually on Thursday, as repairs were made.
The Guangxi water conservation department said major rivers in the province were running over danger marks as the downpours brought by Utor continued.

Editor's picks

Copyright 1995 - . All rights reserved. The content (including but not limited to text, photo, multimedia information, etc) published in this site belongs to China Daily Information Co (CDIC). Without written authorization from CDIC, such content shall not be republished or used in any form. Note: Browsers with 1024*768 or higher resolution are suggested for this site.
Registration Number: 130349