'Leftover women' face tough choices in seeking love
SHANGHAI - Xu Jiajie has gone on countless blind dates and to numerous match-making events over the past five years in search of a husband.
At 31, the baby-faced office worker from Shanghai is under enormous pressure from family and friends to get married. But the right man is hard to find, she says, a big issue for urban, educated and well-paid Chinese women in a society where the husband's social status is traditionally above the wife's.
"My parents have introduced every bachelor they know," said Xu, who earns double the average wage in Shanghai. "Half of the bachelors I met are quiet and never go out. Outgoing men don't need blind dates."
As couples celebrate the "Qixi" festival on Tuesday, the Chinese equivalent of Valentine's Day, Xu and millions of women like her face stark choices as long-held ideas about matrimonial hierarchy run up against economic and social changes sweeping the world's most populous country.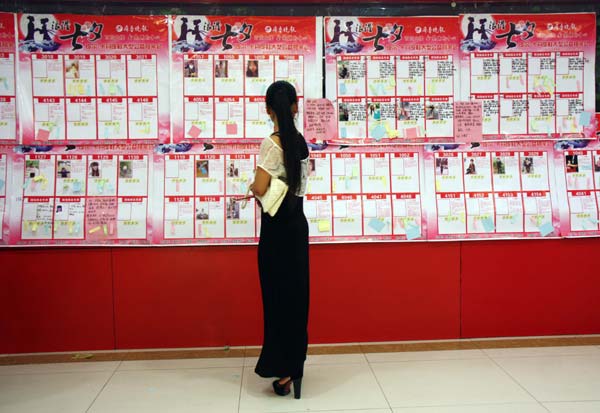 A woman reads profiles of single men at a match-making event in Liaocheng, Shandong province, Aug 11, 2013. [Photo by Kong Xiaozheng/Asianewsphoto] 
The term "shengnu" - directly translated as "leftover women" - was coined to refer to professional women who have not married by their late 20s.
"Chinese people often think males should be higher in a relationship in every sense, including height, age, education and salary," Ni Lin, who hosts a popular match-making television show in Shanghai, told Reuters.
"This leads to a phenomenon in which A-grade men marry B-grade women, B-grade men marry C-grade women and C-grade men marry D-grade women. Only A-grade women and D-grade men can't find partners."
In Beijing, more than a third of women in their late 20s and 30s are looking for husbands, according to the dating website Jiayuan.com. Media reports say there may be as many as 500,000 "leftover women" in the capital.
There are plenty of men to go round among China's nearly 1.4 billion people but social status can conspire against single professional woman once again. The latest census in 2011 showed there were twice as many single men born in the 1970s as women of the same age.
But unlike "leftover women", these "shengnan" or "leftover men" often live in lower-tier cities and do not make much money.
The Shanghai city government tries to help women like Xu by arranging regular match-making events. One in May attracted 20,000 single men and women.
Lucy Wang, a 32-year-old Chinese language teacher who attended the event, said all she could find were playboy types or momma's boys.
"I sometimes wonder if there is something wrong with me," she said. "Twenty thousand people and yet I can't find anyone I like."

Editor's picks

Copyright 1995 - . All rights reserved. The content (including but not limited to text, photo, multimedia information, etc) published in this site belongs to China Daily Information Co (CDIC). Without written authorization from CDIC, such content shall not be republished or used in any form. Note: Browsers with 1024*768 or higher resolution are suggested for this site.
Registration Number: 130349