Wushu festival held in Sichuan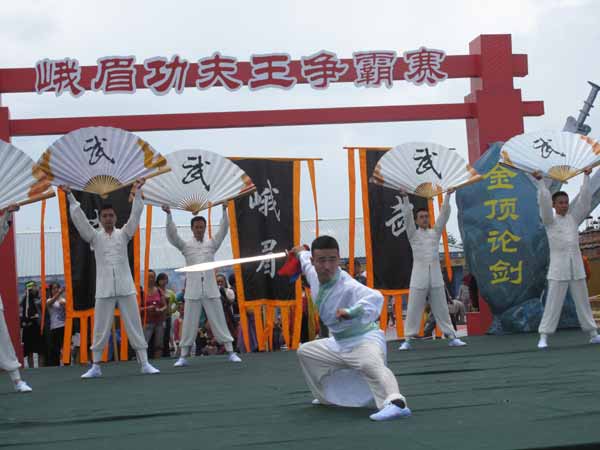 An athlete displays the sword dance of the Emei school of Chinese martial art in the 4th International Emei Wushu Festival of Sichuan, China. [Huang Zhiling/www.chinadaily.com.cn]
Marcel Fortuna knew nothing about Mount Emei in Southwest China's Sichuan before he took part in a boxing competition held on Saturday during the 4th International Emei Wushu Festival of Sichuan, China.
But when the 27-year-old Brazilian who became a winner in the boxing competion left on Sunday evening, he said he was impressed with the beauty of Emei and would revisit it.
One of China's four Buddhist mountains, Emei who was included in the list of the World Natural and Cultural Heritage of the United Nations Educational, Scientific and Cultural Organization in 1996 was the birthplace of the Emei school of wushu some 2,000 years ago.
Together with Shaolin in North China's Henan province and Wudang in Central China's Hubei province, Emei is one of the country's three schools of wushu (a traditional Chinese martial art).
"But compared with the other two schools, Emei is much less influential with fewer disciples," said Xie Fuyin who has worked as a director of the wushu program of the Spring Festival Gala of China Central Television for 10 years.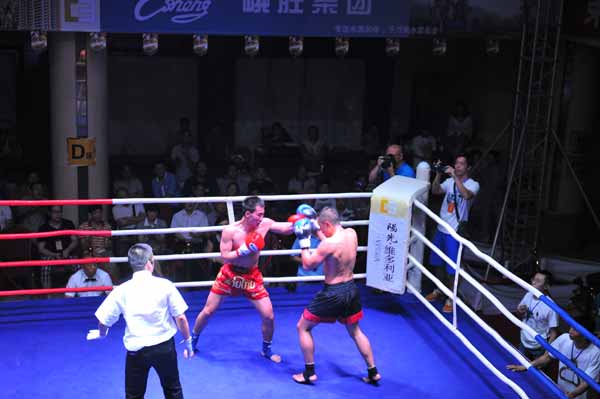 A Chinese boxer fights against his American counterpart in a boxing competition in the 4th International Emei Wushu Festival of Sichuan, China. [Huang Zhiling/www.chinadaily.com.cn]
To let more people know the Emei school, he announced on Friday during the 4th International Emei Wushu Festival of Sichuan that he would start producing a film featuring it next September. The film which is expected to be shown nationwide in 2015 will be the first film about the Emei school.
To promote development of the Emei school and cultural tourism industry, the city of Emeishan where Mount Emei is located hosted the 4th International Emei Wushu Festival of Sichuan, China, from August 8 to 12 with the backing of the Wushu Sports Management Center of the General Administration of Sport of China and Chinese Wushu Association.
"It has drawn 115 teams and 1,173 martial art athletes from China, the United States, France, Brazilia, Kyrgyz and Thailand," said Feng Qingchuan, executive director of the Mount Emei Administrative Committee.
The festival consisted of wushu and boxing competitions and a forum on wushu development.

Editor's picks

Copyright 1995 - . All rights reserved. The content (including but not limited to text, photo, multimedia information, etc) published in this site belongs to China Daily Information Co (CDIC). Without written authorization from CDIC, such content shall not be republished or used in any form. Note: Browsers with 1024*768 or higher resolution are suggested for this site.
Registration Number: 130349