10 killed in E China expressway collision
HEFEI - At least 10 people have died and 34 others are injured after a coach hit the back of a heavy-loaded truck on an expressway in East China's Anhui province Friday morning, the Hefei municipal government said.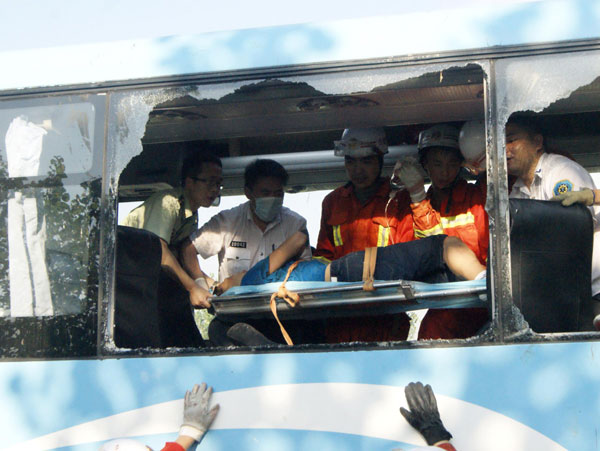 Rescuers carry a victim out of the coach crashed in a road accident in Hefei city, the capital of East China's Anhui province, Aug 9, 2013. The first five rows of seats were crushed after bricks loaded onto the truck toppled the bus. At least 10 people died and 34 were injured. [Photo/Xinhua]
The 53-seater coach was en route from Shanghai to Yingshang county in Anhui when it hit the truck, which was loaded with bricks, on Hefei-Huainan Expressway at 3:45 am, according to an initial investigation by the Hefei authority.
The coach's first five rows of seats were crushed and buried under fallen bricks from the truck.
All the casualties were on the coach. Among the injured, three are in critical condition.
Police said the coach was traveling illegally. Since last year, coaches are not allowed to provide long-distance passenger services on expressways between 2 and 5 am to prevent severe road accidents.

Editor's picks

Copyright 1995 - . All rights reserved. The content (including but not limited to text, photo, multimedia information, etc) published in this site belongs to China Daily Information Co (CDIC). Without written authorization from CDIC, such content shall not be republished or used in any form. Note: Browsers with 1024*768 or higher resolution are suggested for this site.
Registration Number: 130349