China kicks off emergency response to drought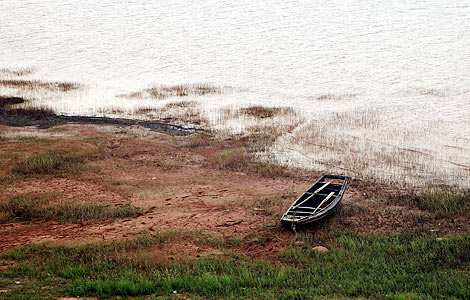 A boat is stranded along the Poyang Lake bank due to falling water level amid continuous drought in Jiujiang, Jiangxi province, Aug 8, 2013. [Photo/Xinhua] 
BEIJING - China's National Commission for Disaster Reduction and the Ministry of Civil Affairs (MCA) kicked off a level-four emergency response to severe drought in central Jiangxi and Hubei provinces on Thursday evening.
According to local civil affairs authorities' reports, as of Thursday, lingering drought had impacted 11.53 million people across the two provinces, leaving 2.9 million people short of drinking water.
The drought has caused direct economic losses of 4.7 billion yuan ($760 million) and affected about 1.15 million hectares of farmland, meaning nearly 114,000 hectares will bear no harvests, according to the MCA.
Governments of Jiangxi and Hubei have earmarked a total of eight million yuan to help alleviate the shortage of drinking water.

Editor's picks

Copyright 1995 - . All rights reserved. The content (including but not limited to text, photo, multimedia information, etc) published in this site belongs to China Daily Information Co (CDIC). Without written authorization from CDIC, such content shall not be republished or used in any form. Note: Browsers with 1024*768 or higher resolution are suggested for this site.
Registration Number: 130349