Polluted river flows with carcinogens
Guo Dianjun lay on a bed in a shabby hut, unable to speak clearly after nasal cancer had spread to his mouth, neck, eyes and ears.
The 62-year-old villager struggles to swallow five kinds of pills a day to contain the cancerous cells and has to sit through regular intravenous drips to maintain his salt and protein levels.
Four years ago, he was diagnosed with nasal cancer, and for the last two he has been too weak to get out of bed. He can't open his mouth wide, and he can't chew. The only solid food he eats is sausage cut into pieces by his brother.
When asked how he developed the tumors, he whispered only one word: water.
Guo and his family live in Henan province's Shenqiu county. The county's main source of drinking water is the Shaying River, a waterway that stretches 620 kilometers and is the largest distributary of the Huaihe River. Since the 1980s, the Shaying River has been severely polluted, according to the Henan Water Resources Department.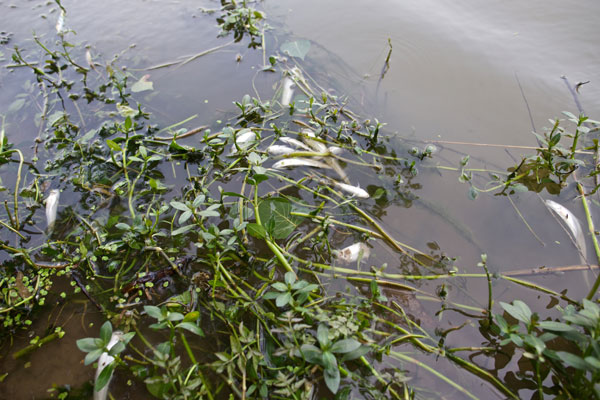 Dead fish float among branches on the Huaihe River, in Anhui province, in June. Zhou Lanfeng / for China Daily 
Research released in June by the Chinese Center for Disease Control and Prevention said deaths related to lung cancer in Shenqiu increased 14-fold for men and 20-fold for women between 1973 and 2005. It was the first time the central government confirmed the water pollution and high cancer rate were directly linked, said Huo Daishan, founder and director of Huaihe River Guardian, an NGO focused on water protection.
People started to notice the water was growing cloudy in the 1970s, he said. Then, as more factories sprang up in the 1980s, dead fish on its surface became a common sight.
Investigations show the groundwater has high levels of manganese and nitrite, chemical elements believed to be carcinogenic, said a Shenqiu health official who did not want to be identified.
Guo's drinking water comes from a well in his village, Wafang. It is muddy, slightly pink and foamy.
"This is the water we drink every day, with no purification," neighbor Guo Xinxiang said. He complained the water often contains red worms as long as chopsticks and as thin as threads.
The well is about 8 meters deep. Cleaner water can be found 200 meters down, "but villagers can't afford to dig that deep", he added.
Deformed fish
Villagers said the number of people diagnosed with cancer has been high in places along the Shaying River since the 1990s, prompting many residents to move away to escape the heavy pollution.
Factories such as a large gourmet powder manufacturer and a leather plant are the chief culprits, they said.
Wang Guoyong, a doctor in nearby Dongsunlou, said two of his patients - men in their 50s and 70s - died of liver cancer last year, while two new cases of stomach cancer and esophagus cancer were reported.
"In many rural areas, lots of people never go to hospital, so they have no idea what kind of disease they have," he said.
At least half of the deaths in his village were caused by cancer, he said.
Zhang Liujie in Liuji village said the fish in the Shaying River have even become deformed due to the heavy pollution.
"Once I caught fish from the river and was astonished when I was cooking them. Their bones had become twisted," the 31-year-old said. "I didn't dare eat them."
Villagers do not even feel safe swimming in the river.
Phoenix Weekly reported in 2009 that the groundwater in all of Shenqiu's towns had been contaminated, and that many villagers had to buy bottled drinking water. About 21 areas had become "cancer villages", where the disease had caused nearly half of all deaths, the report said.
Jin Xuewu, 45, a ship owner who transports river sand from the lower reaches in Anhui province to sell, said the situation there is even worse.
"When I went to Bengbu Tumor Hospital (in Anhui) last year, I found about 80 percent of cancer patients were from around the Huaihe River," he said.

Editor's picks

Copyright 1995 - . All rights reserved. The content (including but not limited to text, photo, multimedia information, etc) published in this site belongs to China Daily Information Co (CDIC). Without written authorization from CDIC, such content shall not be republished or used in any form. Note: Browsers with 1024*768 or higher resolution are suggested for this site.
Registration Number: 130349