Air force can help combat crowded skies, experts say
The air force could gradually loosen its grip on China's airspace by choosing other options to combat flight delays, aviation experts say.
"According to our calculations, if the air force transfers just 10 percent of the airspace under its control to civil airlines, an extra 200 billion yuan ($32.6 billion) will be generated in GDP," said Professor Li Xiaojin from the Civil Aviation University of China.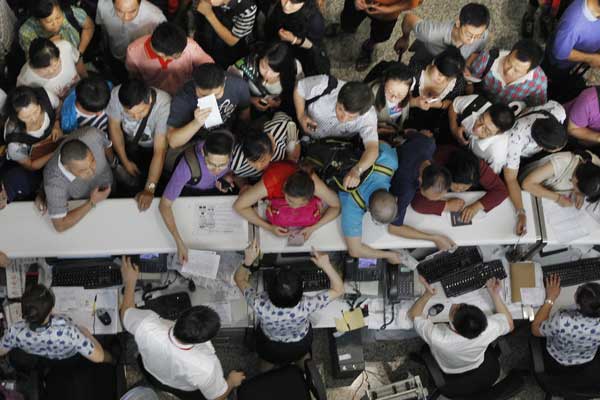 Passengers stranded at Shanghai Hongqiao International Airport inquire about ticket changes and cancellations on July 5, after all domestic flights departing Shanghai after 9 pm were canceled due to thunderstorms. Bad weather is only one factor that causes flight delays. [Ding Ting / Xinhua]
"The government could also use a certain proportion of the revenue to build new air bases in regions that don't have so many routes, so pilot training will not be affected."
CONFLICTS BETWEEN PASSENGERS AND AIRPORT AND AIRLINE EMPLOYEES:
• July 6
Three passengers at Shanghai Hongqiao International Airport attack China Eastern Airlines employees after flight delayed by thunderstorm.
• June 29
Two women whose flight is postponed attack female ground services worker at Wenzhou airport in Zhejiang province.
• March 27
More than 20 passengers occupy apron at Guangzhou Baiyun International Airport after bad weather grounds their flight.
• Jan 4 and 5
Series of disputes between passengers and airline and ground service employees at Kunming Changshui International Airport. Passengers claim airport and airlines fail to perform their duties and offer help after dense fog grounds many flights.
China's airspace is largely controlled by the military, and many areas are used by both civil airlines and military aircraft, leading to comparatively little space for civil aviation, say industry insiders.
"Less than 30 percent of China's airspace can be used by airlines," said an aviation expert who spoke on condition of anonymity. "In the United States, the figure is more than 85 percent."
He said there is huge interest in airspace designation and management, hence the air force is reluctant to relax its control.
Complaints from air passengers about long delays at major airports have grown in recent years.
"I hate to travel by air in summer," said Wang Yuying, a marketing manager at a Beijing software company. "More than half of my flights are delayed and, in June, when I flew with Air China to Shenzhen, I had to sit in the cabin and wait four hours before the plane was allowed to take off."
It is far from uncommon these days to see irritated passengers openly venting their anger at ground crew.
During the past two months, at least eight protests were staged in front of boarding gates after passengers were told their flights had been postponed or canceled, China National Radio reported.
In two incidents, passengers attacked airline employees, the report said.
The negative attitude toward airlines and airports intensified after the two biggest airports in China were given low flight punctuality scores by a United States-based data provider on air travel.
Beijing Capital International Airport, which has the most passenger traffic in China, ranked bottom of 35 major international airports in terms of delays and cancellations, FlightStats said in its latest report, released early in July.

Editor's picks

Copyright 1995 - . All rights reserved. The content (including but not limited to text, photo, multimedia information, etc) published in this site belongs to China Daily Information Co (CDIC). Without written authorization from CDIC, such content shall not be republished or used in any form. Note: Browsers with 1024*768 or higher resolution are suggested for this site.
Registration Number: 130349