Parents reunite with kidnapped baby
Latest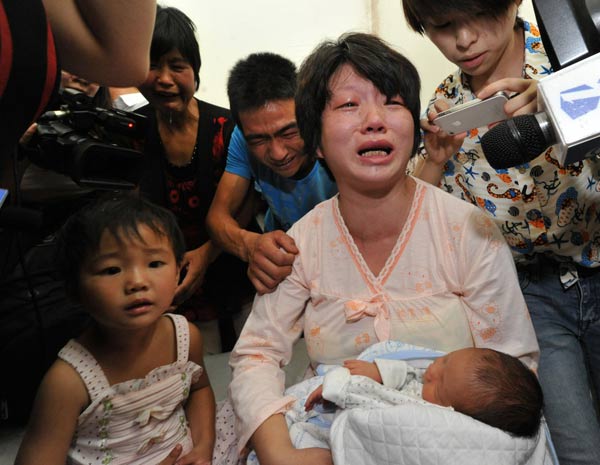 Lai Guofeng's wife holds her baby rescued by police in Fuping, Shaanxi province, Aug 5, 2013. [Photo/Xinhua]
Previous report
Staff at hospital are accused of removing babies from parents and selling them
A baby allegedly kidnapped and sold by an obstetrician in Fuping, Shaanxi province, has been rescued, police said on Sunday.
Police found the baby at about 3 am on Sunday in Anyang, Henan province, which borders Shaanxi.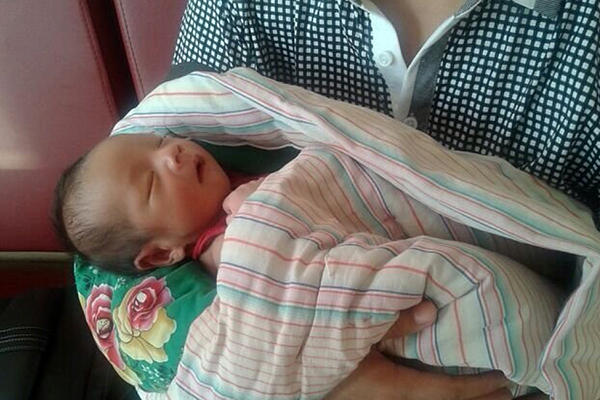 A newborn baby boy allegedly kidnapped and sold by an obstetrician was found by police in Anyang, Henan province, on Sunday. Police are investigating whether the doctor was behind any other kidnappings.Provided to China Daily
"The suspects gave us a clue about the baby's location. With the help of Anyang police, we found the baby there early this morning," said Chen Jianfeng, deputy director of the Fuping county public security bureau.
"The baby is on the way home, and we will give him a DNA test to confirm the baby was the one kidnapped."
Wang Li, director of Fuping Maternal & Child Healthcare Hospital, where the alleged kidnapping took place, was dismissed from her job, along with two deputy directors of the hospital, pending a further investigation, the Fuping county government announced on Sunday.
Three suspects in the case — the doctor, plus a woman and a man from Shanxi province — have been arrested.
A farmer surnamed Dong, 23, gave birth to the baby boy in Fuping Maternal & Child Healthcare Hospital on July 16.
Later that day, an obstetrician named Zhang, who was also the hospital's deputy director of obstetrics, told Dong and her family that tests showed the newborn was suffering from serious congenital diseases.
The doctor persuaded Dong's husband to give up the baby and let her handle him.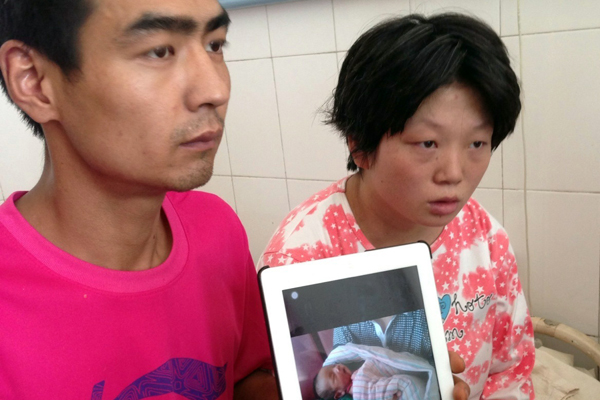 Lai Guofeng and his wife are waiting to reunite with their son. Police say Lai gave up the baby after the obstetrician claimed it had serious congenital diseases.Provided to China Daily
On July 20, the husband became suspicious of Zhang and reported his suspicions to police.
The county public security bureau set up a 30-member team to investigate the case.
According to police, the suspects confessed that after Dong gave birth and her husband agreed to give up his newborn son, Zhang phoned the other two suspects, surnamed Pan and Cui, and asked them to come for the baby.
At about 3 am on July 17, Pan and Cui drove from Shanxi to the county and paid Zhang 21,600 yuan ($3,525) for the baby, police said. Pan and Cui then sold the baby for 30,000 yuan.
After the case was brought to light, local newspapers reported that several families had called and reported similar experiences.
At least three families said that babies born at the hospital in 2006 and 2007 were taken away by Zhang, who informed them that their newborns had congenital diseases that could not be cured and would be expensive to treat.
China News Service said an official who declined to be named said the initial police investigation shows at least seven similar cases at the hospital.
Police said they will investigate whether Zhang had kidnapped and sold other babies.
The Shaanxi Health Department asked all health facilities in the province to check their medical security in order to prevent such cases from happening again.

Editor's picks

Copyright 1995 - . All rights reserved. The content (including but not limited to text, photo, multimedia information, etc) published in this site belongs to China Daily Information Co (CDIC). Without written authorization from CDIC, such content shall not be republished or used in any form. Note: Browsers with 1024*768 or higher resolution are suggested for this site.
Registration Number: 130349