Chinese university eager for recognition
Northwest University for Nationalities (NWUN) has long been overlooked as a mediocre school recruiting minority students in remote northwestern Gansu province. But the university has actually been making great contributions on many frontiers for decades.
"Based on boosting the regional economy (by producing talented students hailing from ethnic minorities), NWUN has a national vision, which is that the prosperity of ethnic groups can play a role in deciding a country's world status," said Zhao De'an, NWUN's president.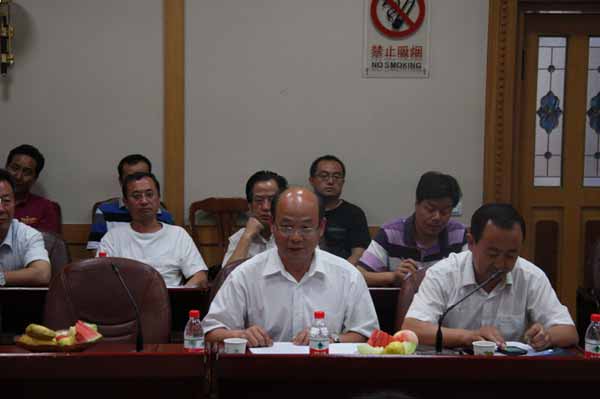 Zhao De'an, president of Northwest University for Nationalities, speaks at a media session at the university in Lanzhou, Gansu province, August 2. [Photo provided to chinadaily.com.cn]
Zhao made the remark at a media session on Friday in hopes of promoting the multi-disciplinary university's efforts in education and research of minority groups.
Originating from a small institution in Lanzhou city that only enrolled about 120 students from nine ethnic groups dating back to 1960, the university now accommodates more than 25,000 from all China's 56 nationalities majoring in 67 subjects, said Zhao, adding that the university has cultivated approximately 130,000 talented professionals in a variety of fields for the country.
Tens of thousands of students from every corner of the country studying and living under the same roof also means they will learn to be tolerant and respectful of different habits, which will ultimately propel national harmony, he said.
Just do it
Among NWUN's 1,800 faculty members and scholars, Professor Yu Hongzhi is the most decorated. She is known for her more than 30 years of devotion to research of information technology for minority groups.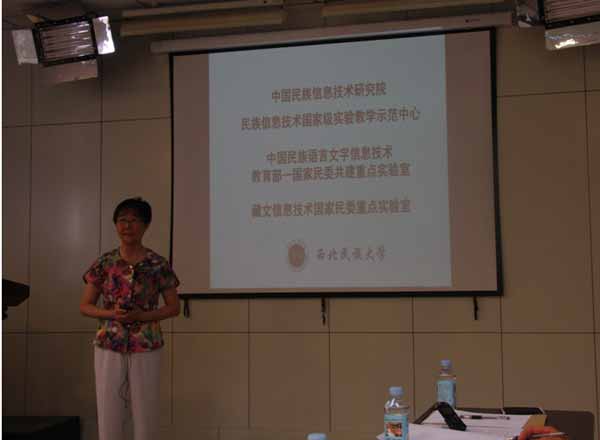 Yu Hongzhi, a professor from Northwest University for Nationalities, elaborates on her project on building an information system for minority groups. [Photo provided to chinadaily.com.cn]
Yu, 66, heads the China Minorities Information Technology Institute at the university. She and her team have spent the last three decades developing ethnic-language information systems and software, including the earliest DOS and Windows operating systems for minority groups.
"That was an extremely difficult project because of the special formation of the characters of Chinese ethnic groups," she said.
But the team has completed the impossible mission, infiltrating into more linguistic information platforms such as remote education, modern speech synthesis systems, digital libraries and the newest Android system in Tibetan.
Yu became a two-time National Prize for Progress in Science & Technology winner for the projects of the Tibetan-Chinese Bilingual Information Processing System in 1999 and the Tibetan Window Flat Word Processing Software & Tibetan Website in 2001.
Cultural preservation
Since 1954, NWUN has been collecting and translating Gesar epic songs that were originally created by Tibetan nomads to pay tribute to King Gesar in the 12th century.
Gesar epic songs are reputed as the longest (over 1.5 million lines) and only active epic composed of a very large body of versions, each with many variants. It was listed as an Intangible Cultural Heritage of Humanity by the United Nations Educational Scientific and Cultural Organization in 2009.
Over the past century, the university has achieved academic success in Gesar research. It has compiled six volumes, including 8.5 million words, and published a series of works on Gesar research.
"Besides academic studies of Gesar epic songs, we also attach great importance to talent training. NWUN began taking in master's degree candidates in Gesarology in 1995 and PhD candidates in 2004," said Ning Mei, dean of the Gesarology Research Institute.
Scientific achievement
Beyond liberal arts, NWUN is acting as an alpha dog in many scientific areas, highlighted by bioengineering, engineering research of animal cells, and biopharmaceutical technology.
In the past three years, laboratory staffers have published more than 40 papers, five of which were included by Science Citation Index, according to Bo Jialin, deputy director of the Research Center for Animal Cells.
The university commercializes scientific research achievements such as animal serums and starch-vinyl acetate emulsion off-heat energy composite blocks, producing great social and economic results, he said.
Meanwhile, the laboratory has established cooperation with a slew of agencies including Utah State University; University of California, San Francisco; China National Biotechnology Group; National Institutes for Food and Drug Control; and China Animal Husbandry Group, said Bo.
Looking back at his 10-year tenure at NWUN, Zhao De'an said he now loves the university with all his heart, and he feels its establishment was a "great decision" by authorities from the central government.
Now he hopes it can find more support in finance and policy, as rough times still linger, especially when it comes to recruitment of elite teachers and students, scientific research funding, facilities construction and brand promotion.
"I've been to 16 or 17 countries and more than 20 universities abroad, but I haven't found any that have similar functions as NWUN, a high-level education institution for nationalities. NWUN can't stop growing, which is good for the cultivation of talent. It is of great significance," he said.

Editor's picks

Copyright 1995 - . All rights reserved. The content (including but not limited to text, photo, multimedia information, etc) published in this site belongs to China Daily Information Co (CDIC). Without written authorization from CDIC, such content shall not be republished or used in any form. Note: Browsers with 1024*768 or higher resolution are suggested for this site.
Registration Number: 130349