China names importers of NZ dairy products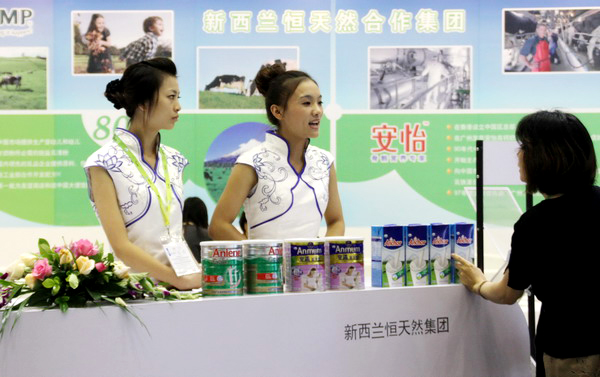 Fonterra Cooperative Group Ltd promotes its milk powder products at a dairy expo in Beijing. The New Zealand dairy giant said its products are safe after media reported that trace chemical residues were detected in its products. [Photo/China Daily]
China's top quality watchdog has named on its website four importers, including Wahaha and Dumex, of potentially tainted products from New Zealand dairy giant Fonterra, in a further move to cope with the food safety crisis.
Two companies under China's largest beverage producer Hangzhou Wahaha Group - Wahaha Health Food Co and Wahaha Import & Export Co, infants and children's nutrition company Dumex, and Shanghai Tangjiu Group were found to have allegedly imported problematic dairy products from Fonterra, according to the website of China's General Administration of Quality Supervision, Inspection and Quarantine (AQSIQ).
All those four companies have initiated recalling measures, said the website. Fonterra said Friday that some whey protein produced in May 2012 was found with clostridium botulinum, which can cause botulism.
The company had sold contaminated New Zealand-made whey protein concentrate to eight customers in Australia, China, Malaysia, Vietnam, Thailand and Saudi Arabia for use in a range of products, including infant milk powder.
Symptoms include nausea, vomiting and diarrhoea, followed by paralysis, and it can be fatal if not treated.
Related stories:
China bans all NZ milk powder imports
NZ names infant formula brand in Fonterra botulism alert
Nutrica recalls Karicare infant formula in New Zealand
China urges recall of tainted Fonterra milk products
New Zealand dairy giant Fonterra issues botulism alert

Editor's picks

Copyright 1995 - . All rights reserved. The content (including but not limited to text, photo, multimedia information, etc) published in this site belongs to China Daily Information Co (CDIC). Without written authorization from CDIC, such content shall not be republished or used in any form. Note: Browsers with 1024*768 or higher resolution are suggested for this site.
Registration Number: 130349