Capturing memories of brick and stone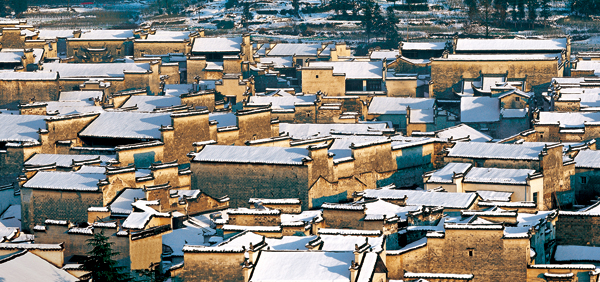 Hui-style architecture attaches great importance to feng shui or geomancy to reach a balance between house and natural surrounding. [Photo By Zhang Jianping/For China Daily]
His images document ancient architecture in all its glory, worn and battered by time and use but true to its original form. Sun Yuanqing finds out what makes this photographer so passionate.
For some people, photography is a hobby, but Zhang Jianping sees it more as a calling. Over the last 24 years, Zhang has taken more than 400,000 pictures of the same subject: Hui-style architecture. He says these images serve only one purpose, and that is "to preserve the memories of the original Huizhou".
"When it comes to ancient architecture, I believe in the Taoist rule of 'non-action', and to let the old be the old," Zhang says.
To make more people understand what he means, Zhang, however, is taking all kinds of action. He takes photographs, reads extensively on Huizhou's history, publishes albums on Huizhou, advises the government, and campaigns on weibo - China's micro-blogging site, where he has about 170,000 followers.
In the last weeks, Zhang has been campaigning for Jinzi shrine, a 517-year-old Hui-style ancestral temple that is going under a restoration, which Zhang believes to be destructive rather than helpful.
As with many other previous cases, the casual replacement of old material with new is causing even more damage to the cultural heritage, Zhang says.
"The carved bricks were thrown away and tiles were replaced with new ones. This is the worst nightmare in the 517 years of its history," Zhang says.
Hui-style structures, one of the major schools of Chinese architecture, originated from a historic region in southern Anhui province. The clusters of gray-tiled and white-walled houses have been constantly captured in traditional Chinese ink painting for its simple but elegant style.
Hui-style architecture attaches great importance to feng shui or geomancy to reach a balance between house and natural surrounding, so that the residence will have good ventilation and light.
When Zhang first started taking pictures in 1989, he was no more than an amateur fascinated by the beauty of Hui-style houses. "Every village I visited, it was like a dream, a paradise where no two houses were identical," Zhang says. It's also a paradise that has turned out to be very vulnerable.
Rapid reconstruction and modernization in rural China in the last few decades had posed a major threat to the preservation of Hui-style architecture.
While some houses were torn down and replaced by new concrete buildings, some were dismantled into stone and wooden sculptures and ornaments that were traded by antique dealers at prices as high as hundreds of thousands of yuan.

Editor's picks

Copyright 1995 - . All rights reserved. The content (including but not limited to text, photo, multimedia information, etc) published in this site belongs to China Daily Information Co (CDIC). Without written authorization from CDIC, such content shall not be republished or used in any form. Note: Browsers with 1024*768 or higher resolution are suggested for this site.
Registration Number: 130349