No epidemic outbreaks in quake-hit NW China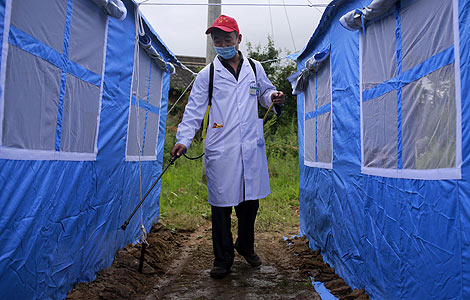 A health worker sprays disinfectant at a shelter center for people affected by the earthquake in Zhangxian county, Gansu province, July 24, 2013. [Photo by Feng Yongbin/Asianewsphoto] 
BEIJING - No epidemic outbreaks or public health emergencies have been reported in a quake-hit region in Northwest China's Gansu province, health authorities said Tuesday.
More than 4,300 people affected by the quake have received medical treatment, the National Health and Family Planning Commission said.
A 6.6-magnitude earthquake jolted Minxian and Zhangxian counties in Gansu's city of Dingxi on July 22, killing at least 95 people.
More than 3,200 medical workers are serving in the quake zone, including epidemic prevention staff, health supervisors and mental health workers, the commission said.
The commission said it is working with the provincial health bureau to create an outline for helping local medical institutions monitor drinking water quality and test for pathogenic microorganisms.

Editor's picks

Copyright 1995 - . All rights reserved. The content (including but not limited to text, photo, multimedia information, etc) published in this site belongs to China Daily Information Co (CDIC). Without written authorization from CDIC, such content shall not be republished or used in any form. Note: Browsers with 1024*768 or higher resolution are suggested for this site.
Registration Number: 130349