Officers suspended after alleged beating
About 10 government officers were suspended on Sunday as an investigation continued into allegations the father of a 9-year-old girl was beaten because they sold lamps on the street as the girl's summer holiday project in Beijing's Shichahai area.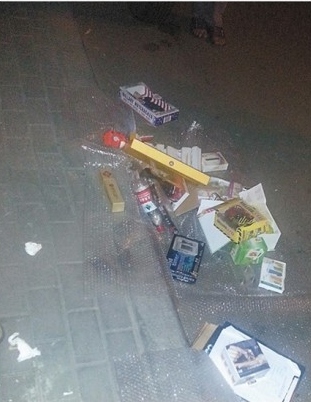 Things scatter on the street in Shichahai area in Beijing after the vendor, a father of a 9-year-old girl, was beaten by chengguan officers on Thursday. [Photo from Sina Weibo provided by Mr Fan]
A joint investigation team has been set up by legal affairs, supervision and police departments as well as lawmakers and political advisers.
On Sunday the Xicheng district government released an initial report of the case on Sina Weibo, a micro blog platform.
According to the report, four people were injured, including the father and three government officers in Shichahai area, a famous tourism destination in Beijing's downtown area.
Tian Yudong, the father, also posted on Sina Weibo that he had started a project with his daughter, a third-grade pupil, on July 16. They sold lamps on a street in Shichahai near their home with the project aimed at improving the girl's social abilities.
On Thursday night, a law enforcement team including chengguan officers, or urban management officers, and officers from the Shichahai tourism management office asked them to stop the operation for the second time since they started the project, according to Tian's micro blog posts.
An argument ensued that deteriorated into a physical altercation between the officers and Tian. Tian said he suffered cuts and bruising and has a lump on the back of his head.
Three tourism management officials also suffered injuries and reported the case to local police on Friday, said Sun Jinsong, head of Xicheng district's publicity department.
Sun said chengguan officers did not beat Tian and the fight was only between him and the tourism management officers, who have no urban management law enforcement rights.

Editor's picks

Copyright 1995 - . All rights reserved. The content (including but not limited to text, photo, multimedia information, etc) published in this site belongs to China Daily Information Co (CDIC). Without written authorization from CDIC, such content shall not be republished or used in any form. Note: Browsers with 1024*768 or higher resolution are suggested for this site.
Registration Number: 130349