Taste and local culture
Many international hotels in China are introducing tea and culture into their success formula to include the host country's local characteristics and reflect international travelers' changing tastes. Sun Ye in Beijing and Wang Yuke in Tianjin file the updates.
Tea sommeliers. It's a new job description in the hospitality trade, and qualified candidates are in great demand. The only problem is there are still relatively few people who can fit the roles. To be a good tea sommelier, you need a comprehensive knowledge about tea and the ability to explain its intricacies. Not only that, you must look the part of cultural ambassadors of an art that dates back 2,500 years.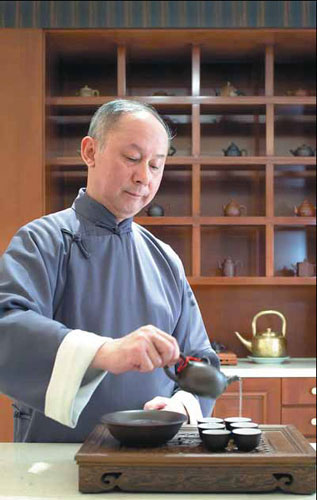 Tea master Xie Siwen enjoys passing on his knowledge of tea and drinking tea to guests at the Ritz-Carlton in Beijing. Provided to China Daily
Xie Siwen certainly does.
At a youthful-looking 70, the tea sommelier at the Ritz Carlton Beijing is still not used to the taste of water.
What he does drink every day are pots of dragon well green tea grown near his hometown. It's the first and last mouthful he takes each day, and the drink he recommends to guests wanting to take the edge off the heat in summer.
Xie was raised in Shanghai by a family that had migrated from Zhejiang province and has been drinking green tea for as long as he could remember.
For most of his adult life, drinking tea had been both habit and hobby.
The retired acoustic engineer continued to learn more about tea after he stopped working, and it was at a friend's request that he agreed to become a tea sommelier at the Ritz-Carlton to share his love of tea.
Xie does not believe in formal credentials.
"Tea drinking is all about practice and experience - no diploma needed," he says.
He doesn't believe in hard sells, either.
"I don't even push my own children to drink. I let them discover on their own."
Ritz-Carlton's managing director David Wilson says Xie's expertise still "refreshes and inspires" after five years on the job. He's obviously happy with what tea master Xie is doing.
Indeed, Xie is living proof of the health benefits of drinking tea and says he's neither bothered by hypertension nor high levels of blood lipids. He credits his youthful vitality to drinking tea and advises his guests to "live life the way you appreciate a cup of tea".
For guests who appreciate his recommendations, he has a menu of special infusions with notes on the benefits.
Pu'er black tea on its own diffuses unwanted fat, and pu'er herbal tea with rose petals is for women who want a clear complexion.
Then there are the correct ways of drinking tea.
"You'll have to wait, focus. Let the tea steep, taste a little bitterness and finally work on the aftertaste that should be a little sweet," Xie says.
"It's just like life. You have to work and reflect on what you have gone through to get the essence and sweetness of life. It's especially true for those of us who have gone through decades of change."
The changes are continuing, and Xie says people no longer drink to quench the thirst of the body. They drink to satisfy the thirst of the spirit.
"Tea goes best with a calm state of mind. You have to have serenity to feel the nuances of the taste. You have to be sober to be able to mull over what you have experienced. You can only understand the Tao of the world with an unhurried, patient mind."
At Tianjin's retro-chic Astor Hotel's Victorian Garden, guests can indulge in afternoon tea with a difference. They can choose from a comprehensive range of Western or Chinese brews.
On hand to help them is Wang Jing, the tea expert seconded from the hotel's tea supplier.
"Tea drinking has shifted from being a auxiliary activity to being a main attraction in recent years," she says.
"We see the art of tea drinking flourishing day by day. It has gone beyond being a beverage to an art form.
"The Astor arranges a tea ceremony at least once a week, presented by skilled tea sommeliers. Foreign visitors and guests are attracted by the demonstration, and they gather around and shoot questions at us."
Tea lovers are also becoming more particular about the quality and purity of tea.
Wang remembers one instance clearly.
"A guest from Taiwan ordered oolong tea and was dismayed by a tainted nuance in the tea, probably caused by careless handling during the freighting process. He did not like the other types of tea we offered for compensation until he tasted the dahongpao, a rock tea from the Wuyi Mountains in Fujian province." Dahongpao is a rare and extremely expensive tea.
The rise in appreciation for Chinese tea means the welcome drink in international hotels these days may be a hot pot of good tea.
Helen Chen, from the marketing department of Starwood Hotels and Resorts, tells us that a recent survey shows that the domestic market accounts for 60 to 70 percent of room occupancy.
With that in mind, guests at the Astor are greeted with a cup of tea as soon as they step through the door. It works with the foreign visitors, too, because tea is so much a part of Chinese culture.
The role of the tea sommelier is set to grow in China as the country proudly asserts its own identity and shares it with visitors.
It pays to know your tea.

Editor's picks

Copyright 1995 - . All rights reserved. The content (including but not limited to text, photo, multimedia information, etc) published in this site belongs to China Daily Information Co (CDIC). Without written authorization from CDIC, such content shall not be republished or used in any form. Note: Browsers with 1024*768 or higher resolution are suggested for this site.
Registration Number: 130349