Govt reassures on world's tallest building
CHANGSHA - Local authorities have reassured critics of the planned world's tallest building in Changsha, Central China, that there will be no substantial construction until the project goes through relevant legal procedures.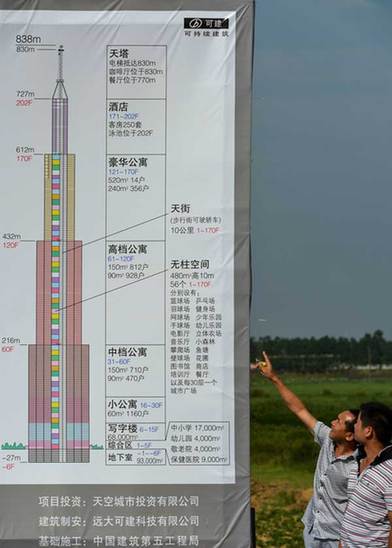 Work on a skyscraper aiming to be "the world's tallest building" has been ordered to stop just days after breaking ground in Changsha. If built, the skyscraper would surpass the world's current tallest, Burj Khalifa in Dubai, by 10 meters. Bai Yu / Xinhua
Examination of the construction plans for the "Sky City" basic structure and its firefighting facilities, and application for official licenses are under way as required, said the Binshui New City management committee in Wancheng district of Changsha, capital of Hunan province.
No substantial construction will be launched before the project obtains legal licenses, according to a statement obtained by Xinhua late on Friday.
Nine domestic construction experts have carried out a series of examinations on the project, including its structure and quake resistance, the statement added.
A ground-breaking ceremony was held on July 20 for the 838-meter-tall tower. But it immediately sparked doubts on the project's safety, environmental concerns and construction speed.
According to the project's builder, Broad Sustainable Building Technology Co, Ltd, it will take just seven months to complete.
The building, which is made of steel, can accommodate 30,000 people with school, hotel, hospital, apartment and office facilities and an 8,000-square-meter garden.
Broad Sustainable Building is a subsidiary of Changsha-based Broad Group, a privately-owned enterprise which supplies such products as non-electric central air conditioning, sustainable buildings and energy utilization services.
In an exclusive interview with Xinhua, Zhang Yue, president of Broad Group, said 3,000 workers will do the assembly work at the construction site for three months while 20,000 others will finish manufacturing in four months in factories.
Zhang said he hoped people could devote attention to the project's advantages in saving energy and land rather than its height.

Editor's picks

Copyright 1995 - . All rights reserved. The content (including but not limited to text, photo, multimedia information, etc) published in this site belongs to China Daily Information Co (CDIC). Without written authorization from CDIC, such content shall not be republished or used in any form. Note: Browsers with 1024*768 or higher resolution are suggested for this site.
Registration Number: 130349