Nursing home blaze kills 11 residents
Experts call for tougher safety measures to protect elderly, disabled
Experts are calling for an overhaul and stricter execution of safety management measures after 11 elderly residents were killed when a resident set fire on Friday morning to a nursing home in Hailun, Hailongjiang province.
According to the Hailun public security bureau, Wang Gui, a 45-year-old resident at the Lianhe Nursing Home, started the blaze at 1:15 am on Friday in a wing at the nursing home that accommodated 32 ailing seniors.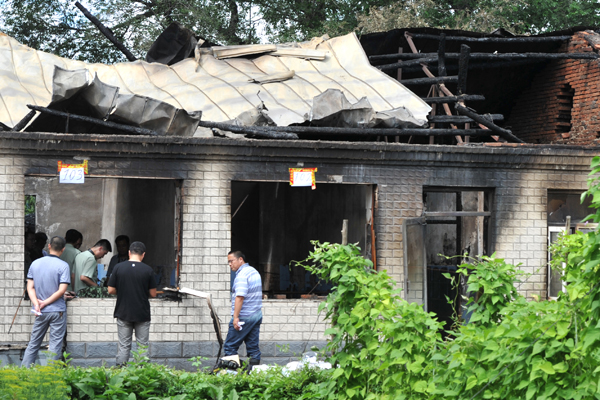 Police officers investigate the charred remains of a nursing home in Hailun, Heilongjiang province, where a suspected arson incident killed 11 elderly residents before dawn on Friday. PROVIDED TO CHINA DAILY
Firefighters extinguished the fire within an hour but couldn't save the 11 seniors, who lived in three rooms of the wing, said a government statement on Friday afternoon. Wang also died in the blaze.
The statement said Wang lost his temper and set the fire after he suspected another resident had stolen 200 yuan ($32.40) from him.
Two other residents were hospitalized for smoke inhalation.
Neither the bureau nor the local government released further details about how the fire was ignited or the rescue progress.
Wu Cheng, vice-president of the nursing home, said the lack of manpower hampered the rescue despite the fact that all anti-fire equipment had been implemented.
"As a public welfare organization, we offer free services to qualified seniors. So we are running with a huge fund shortage and could hardly recruit enough nursing staff," Wu told China Daily on Friday afternoon.
There are 283 seniors, most of whom are retired farmers without earnings, living in the home while only 30 staff members take charge of nursing and security work, said Wu.
According to a recent national regulation on nursing homes, every four seniors should be overseen by one nurse while the 24-hour security patrol should be mandatory.
Gao Jin, a 76-year-old who lived next to the burning room, escaped without help from the nursing home staff.
"One worker knocked at my door shouting 'fire' so I ran out of the building on my own as soon as possible," he said. "But I saw barely enough staff helping with the rescue."
Wei Haibo, a worker at the home, said there were supposed to be night shift staff patrolling the site for a scheduled security check after 11 pm.
"But there are no official shift arrangements and nobody will oversee enforcement of patrol duties. So it's hard to tell whether (the check) is operated routinely."
The Hailun civil affair department, which governs local welfare and nursing homes, refused to comment on the understaffing of the home by Friday evening.
With a rapidly aging population and under-resourced social security net, the country faces increasing pressure to implement its rules and measures on such institutions, said Du Peng, professor with the Institute of Gerontology of Renmin University.
"The enforcement of regulations is a major problem due to limited social resources," said Du. "The tragedy happened right after new nursing home regulations took effect earlier this month, which gave us a painful lesson on the importance of implementation of safety measures."
Poverty problems in rural areas also affect the quality of security management at nursing homes in the countryside, Du said.
Fang Jiake, vice-chairman of the Tianjin Hetong Elderly Welfare Association, said nursing homes should carry out tougher fire-prevention measures as most of the residents are physically disabled.
"Evacuation and rescue are much harder here than in other places, so precaution measures such as fire-safety education, smoking bans and regular patrol procedures, are crucial," said Fang.
Despite the loss, the tragedy has warned other nursing institutions to strengthen security administration while reinforcing safety education.
Liu Aiping, head of Yangzhou Social Welfare Center in Jiangsu province, said the provincial authority will launch a thorough examination on safety loopholes in nursing homes.
"Any organization that fails the safety checks will be ordered to rectify problem areas with a deadline. If they disqualify again, they will be deprived of their operation license," she said.

Editor's picks

Copyright 1995 - . All rights reserved. The content (including but not limited to text, photo, multimedia information, etc) published in this site belongs to China Daily Information Co (CDIC). Without written authorization from CDIC, such content shall not be republished or used in any form. Note: Browsers with 1024*768 or higher resolution are suggested for this site.
Registration Number: 130349