3-star dinosaur
Passion for food and a lifetime of experience keep celebrity chef 'JG' Vongerichten fresh in the kitchen
Chef Jean-Georges Vongerichten, 56, enjoys calling himself the"dinosaur in the kitchen".
Of course, the three-star Michelin chef known as"JG" is being humorous and humble about his seniority in the culinary world, as this July marks the 40th anniversary of the French chef-restaurateur in the kitchen.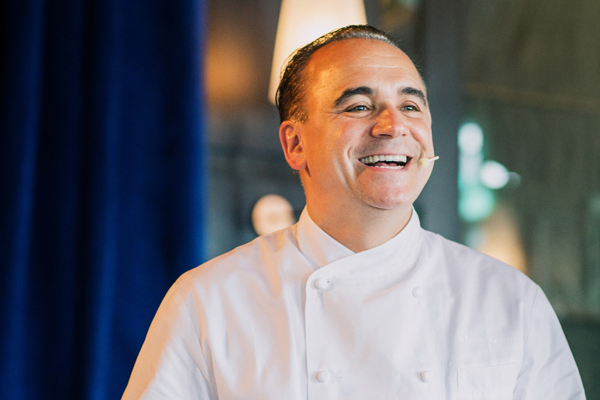 Jean-Georges Vongerichten shares with gourmands his love for food in his Shanghai cooking class.Photos provided to China Daily
But in Shanghai, where luxury hotels with fine dining and upscale restaurants seem to saturate the market, the chef has the star power of a Hollywood celebrity.
During his recent visit to Shanghai in June, where his only Jean-Georges restaurant outside New York is located, hundreds of people packed into the dining room on the iconic Bund for the annual JG Cooking Class.
Tickets were going for 498 yuan ($81) per head, including a four-course lunch, and they were sold out weeks ahead — especially popular this year because the chef had to cancel last year class after Hurricane Sandy destroyed his home in New York.
During the class, food critics and gourmands listened as Vongerichten passed little tips for making vinaigrette and dressing sea bass, took notes and photos, asked questions and, at the end, paid verbal homage to a chef who on this day outshines his own magnificent food.
"China chooses me," Vongerichten says. The internationally celebrated chef braved the China market in 2004, at the suggestion of Celine Dion. His popularity is well-founded.
The owner of 20-plus restaurants all over the world, two of which are in Shanghai, he visits the city twice every year, hosting a cooking class and visiting the local, muddy wet market tucked in the lanes of the city.
"I love walking into the local market, getting inspired, and cooking it out," as he puts it. During an almost four-hour market trip, the chef smelled, touched, tasted and photographed almost everything he put into his basket.
"Good food starts with good ingredients," he says, which for him means the freshest of the local produce. Although China's food-safety problem is"worrying", he sources 90 percent of the fruit and vegetables for the restaurant from local, trustworthy farms.
And his early exposure to Asia's culinary culture affirmed his connection with the market.
The son of an Alsatian coal distributor had no idea about what to do in his future until his 16th birthday dinner, when the food from a fancy restaurant opened something up inside of him and led him into the industry.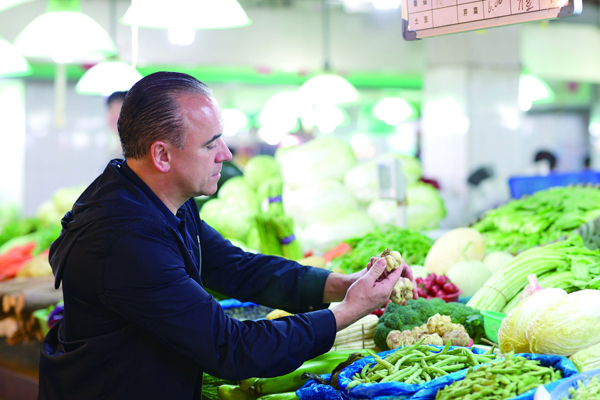 Local vegetable markets are JG Vongerichten's favorite places to visit.
His talent and great passion that has only intensified over the past four decades, helped him through the early apprentice days and transformed him from a cook to a chef at the age of 23, when he won the job in the Mandarin Oriental Hotel Bangkok.
The five years in Asia were a cultural shock Vongerichten describes as like"having a slap on the face every day". But it also developed his culinary style, a fusion that combines the techniques of the French and the ingredients of Asia, especially Thailand.
"I was tired of my French palate. I like acids like vinegar and citrus, which could help digestion. French food is too heavy with a lot of dairy (products). I like lighter and healthier dishes using vegetables and their juices, olive, herbs, the essence of ginger, and maybe a little bit of butter and cream," he says.
Traveling back to the Western world, to New York in 1988, he grabbed the spotlight by being the youngest chef to get four-star recognition from the New York Times, before he was 30 years old.
One honor after another has come his way since then, making him now one of the world's most sought-after chefs — while his own"restaurant empire" spans the globe.
The"dinosaur" is unlikely to retire. But after working six days a week for 35 years, Vongerichten has bought a country house in New York and has been taking a few weekends off,"finally", during the past five years.
Aside from the growing dining empire, Vongerichten, who feels he has come to this world to"pamper, please and feed people", would also like to have a JG hotel, where people, rather than staying for two or three hours for a meal, could spend more time enjoying the"JG pamper", from breakfast to bed.

Editor's picks

Copyright 1995 - . All rights reserved. The content (including but not limited to text, photo, multimedia information, etc) published in this site belongs to China Daily Information Co (CDIC). Without written authorization from CDIC, such content shall not be republished or used in any form. Note: Browsers with 1024*768 or higher resolution are suggested for this site.
Registration Number: 130349