President Xi meets Shenzhou X astronauts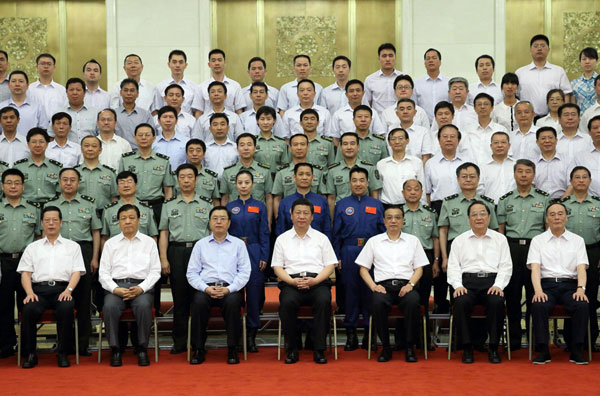 China's top leaders Xi Jinping (C front), Li Keqiang (3rd R front), Zhang Dejiang (3rd L front), Yu Zhengsheng (2nd R front), Liu Yunshan (2nd L front), Wang Qishan (1st R front) and Zhang Gaoli (1st L front) meet with astronauts and scientists who participated in the Shenzhou-X mission, at the Great Hall of the People in Beijing, July 26, 2013. [Photo/Xinhua]
BEIJING - Chinese President Xi Jinping on Friday met astronauts and scientists who participated in the Shenzhou X mission, extending congratulations to the success of the mission.
All members of the Standing Committee of Political Bureau of the Communist Party of China (CPC) Central Committee, including Xi, Li Keqiang, Zhang Dejiang, Yu Zhengsheng, Liu Yunshan, Wang Qishan and Zhang Gaoli, attended the meeting at the Great Hall of the People.
Xi shook hands with astronauts Nie Haisheng, Zhang Xiaoguang and Wang Yaping, as well as others who worked on the mission, and took photos with them.
The mission was carried out from June 11 to 26, during which time the Shenzhou X docked with the orbiting space lab Tiangong-1 twice.
The astronauts spent 12 days in the Tiangong-1, where they conducted experiments and tests, and delivered a lecture to students on Earth about basic physics principles.
Xi said the mission marked the perfect finish of the first phase of the second step of China's manned space program.
China's space technology has reached an advanced level, adding the country has created a hard-working and dedicated team of aerospace scientists and astronauts, the president said.
Xi said he hopes the manned space program will continue to see success in the future with the support of authorities and the public.

Editor's picks

Copyright 1995 - . All rights reserved. The content (including but not limited to text, photo, multimedia information, etc) published in this site belongs to China Daily Information Co (CDIC). Without written authorization from CDIC, such content shall not be republished or used in any form. Note: Browsers with 1024*768 or higher resolution are suggested for this site.
Registration Number: 130349