New US consulate in Guangzhou offers quicker service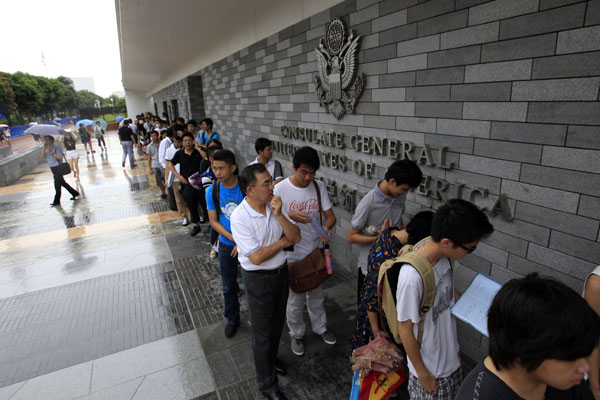 Visa applicants queue for about 50 meters under shelter outside the new site of the US Consulate General in Guangzhou, Guangdong province, July 24, 2013. [Photo/China Daily]
Undiscouraged by heavy rain in the morning, visa applicants queued for about 50 meters under shelter outside the new site of the US Consulate General in Guangzhou at 12:30 pm on Wednesday.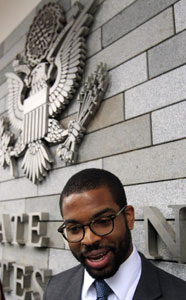 Fareed Abdullah, a visa officer at the US Consulate General in Guangzhou
Three hundred applications had been processed in the morning and more were expected in the afternoon, with another 200 taken on Tuesday, the day the new premises went into use, said Fareed Abdullah, a visa officer at the consulate.
All 67 service windows at the consulate were in use on Wednesday, 22 more than were available at the old site.
Zheng Yu from Foshan, another city in Guangdong province, received his student visa approval in just 30 minutes on Wednesday.
He compared that to his experience applying for a visa to study at a US high school three years earlier, and said the new site offered greater efficiency and a more relaxed environment.
"There are quite a lot of windows and more staff," Zheng said.
Since "US-China relations are so important", Abdullah said, he expected visa applications to keep increasing. In 2012, 1.36 million non-immigration US visa applications were handled in China.
There are now 55 visa officers at the consulate, up from 29 two years ago, and the number of local staff has also increased.
Abdullah said he expected many of those queuing for visa interviews on Wednesday, a majority of whom were young, planned to study in the US.
Young Lee, acting public affairs consul, told the media she encouraged Chinese people, be they students, tourists, investors or honeymooners, to visit the US.
With office space of 18,000 square meters, the $267 million new consulate in the booming central business district of Zhujiang New Town is the second purpose-built US facility in China, following the completion of the Beijing embassy in 2008, according to the consulate website.
Situated in a garden setting, the seven-building complex includes a consular building, an office building, accommodation for US Marines, a warehouse with service shops and three entrance pavilions.
The centerpiece of the complex is a four-story office building featuring an interior "Great Hall" and the 67 service windows for both visa applicants and US citizens.
The website states, "The facilities were designed for flexibility for current and future use. With the bilateral relationship between the US and China evolving so quickly and the demand for consular services growing at such unprecedented rates, the building is designed to adapt to these changes easily with minimal cost."
Abdullah said the new consulate better designed for the comfort of visa applicants. Applicants are advised to come 10 minutes before their appointment time, rather than a long time in advance.
The consulate is not the only building in the neighborhood receiving more visitors.
A Hopefluent real estate agency branch near the consulate has seen a slight increase in house rentals, said a worker who identified himself as Li.
Newsstands near the consulate feature flyers advertising rental properties and visa consulting services.

Editor's picks

Copyright 1995 - . All rights reserved. The content (including but not limited to text, photo, multimedia information, etc) published in this site belongs to China Daily Information Co (CDIC). Without written authorization from CDIC, such content shall not be republished or used in any form. Note: Browsers with 1024*768 or higher resolution are suggested for this site.
Registration Number: 130349