Trending news across China
BAKERY BLAST
Two people were killed and 19 injured in a gas explosion Wednesday morning at a bakery in downtown Beijing. (www.chinanews.com)
LINGERING HOT-POT
The longer the smell of hot pot lingers on your clothes, the more additives have been allegedly used in the broth, according to a post buzzing online. "If the strong flavor lasts hours, basically it means additives have been used although it could be misleading to link the amount of additive to how long the smell lasts," said Liu Wenzong, a food safety expert of Southwest University. (www.people.com.cn)
MA SU SINGLE
Chinese actress Ma Su confirmed she has broken up with Kong Linghui, head coach of Chinese women's national table tennis team on Tuesday, one day after she denounced rumors that she ditched the 11-year relationship with Kong after claims of a fling with a younger actor. The topic was rising on Sina Weibo, with more than 200,000 related posts.
BLUFFING COP
The chief of a police station paid the price for bluffing about his extravagant lifestyle of several properties, gambling and successful business. Chief Qin Degang from Shehong county in Sichuan province was deposed after his remarks on tape went viral. (www.qq.com)
SUBWAY CRUSH
Kai-Fu Lee, an IT venture capitalist, posted pictures of subways in different cities on Tencent's blog site, saying the passenger flow in Beijing's subway redefined the word crowded.
FACE OFF
More young men are having facial plastic surgery in Wuhan, Hebei province, said Wu Zhongxing, a surgeon of Wuhan University-affiliated hospital of stomatology. One male patient said he hoped his new face would boost his chances of getting a job in a big company. (http://hb.sina.com.cn)
QIGONG MASTER
Wang Lin, a master of qigong, a martial arts practice with Taoist philosophy, was in the spotlight as a photo was posted of him with Chinese A-list actress Li Bingbing, with him claiming to be her godfather. (http://ent.163.com)
HOSPITAL CORRUPTION
All 73 hospitals in Zhangzhou, Fujian province, were found to be involved in a corruption scandal. The price of an injection was inflated to 11.5 yuan, 10 times more than its cost. Money generated from the price gap largely went to supervision officials and hospital staff. (CCTV)
SISTER ACT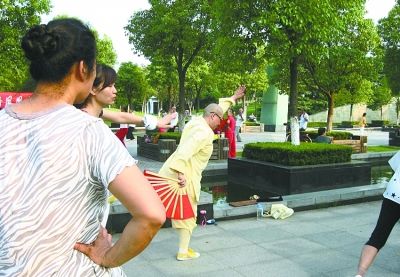 Pictures showing three nuns dancing with people at a park became popular online. One of the nuns videotaped the lead dancer's moves on her iPad for further practice. The story made Baidu's hot news list.

Editor's picks

Copyright 1995 - . All rights reserved. The content (including but not limited to text, photo, multimedia information, etc) published in this site belongs to China Daily Information Co (CDIC). Without written authorization from CDIC, such content shall not be republished or used in any form. Note: Browsers with 1024*768 or higher resolution are suggested for this site.
Registration Number: 130349