2 killed in Beijing bakery blast
A surveillance camera at a cellphone store recorded the blast. [Provided by the cellphone store's owner surnamed Ge]
BEIJING - A preliminary investigation of a bakery explosion found that a liquefied petroleum gas leak in the shop's steel cylinders caused the accident, police said.
The blast went off about 7:30 Wednesday morning in Beijing's Dongcheng district, causing two deaths.
The explosion on Guangming Road left two dead and 19 injured, according to a micro blog issued by Beijing's fire control bureau.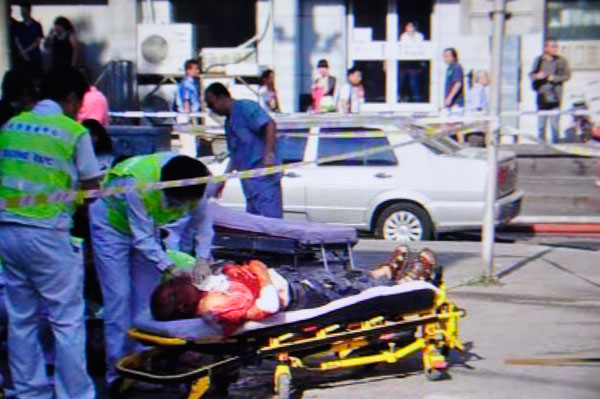 An injured man is treated outside the bakery in Beijing, July 24, 2013. [Photo/icpress.cn]

Editor's picks

Copyright 1995 - . All rights reserved. The content (including but not limited to text, photo, multimedia information, etc) published in this site belongs to China Daily Information Co (CDIC). Without written authorization from CDIC, such content shall not be republished or used in any form. Note: Browsers with 1024*768 or higher resolution are suggested for this site.
Registration Number: 130349