Feeling the heat: Zhejiang traffic police officer
After six years of working as a traffic police officer, 32-year-old Mao Lixin said working under the Hangzhou sun is no longer a challenge.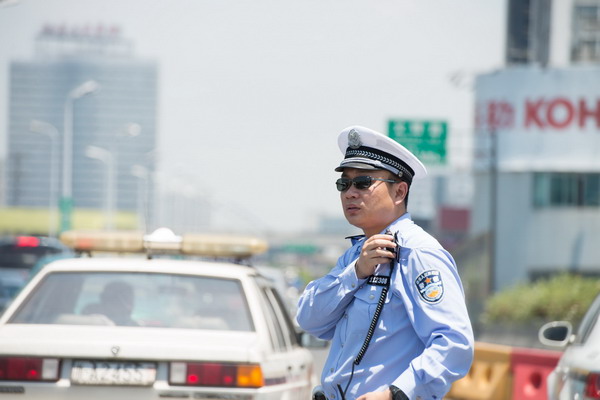 Mao Lixin [Photo by Jiangnan/Asianewsphoto]
The sun bakes the city's flyovers where Mao has to spend eight hours each day. There is hardly any shade.
"The most important thing is to drink as much water as possible, but the problem is there is no toilet," he said.
Mao's shift starts at 6:45 am and ends at 11:45 am. After three hours' rest, he sets off again on duty until the evening rush hour ends.
The Hangzhou native said that it is not the heat that concerns him most but vehicles breaking down.
"Cars, especially taxis, breakdown more often in summer. On a flyover, a breakdown can cause a massive traffic jam," he said. Two cars broke down within an hour the day we interviewed him.
Mao does not get any subsidy for working in the heat.

Editor's picks

Copyright 1995 - . All rights reserved. The content (including but not limited to text, photo, multimedia information, etc) published in this site belongs to China Daily Information Co (CDIC). Without written authorization from CDIC, such content shall not be republished or used in any form. Note: Browsers with 1024*768 or higher resolution are suggested for this site.
Registration Number: 130349