Feeling the heat: Fuzhou auxiliary traffic police officer
Lin Weihai, an auxiliary traffic police officer in down-town Fuzhou, the country's "No 1 Furnace", described his job as an energy-sapping test of will.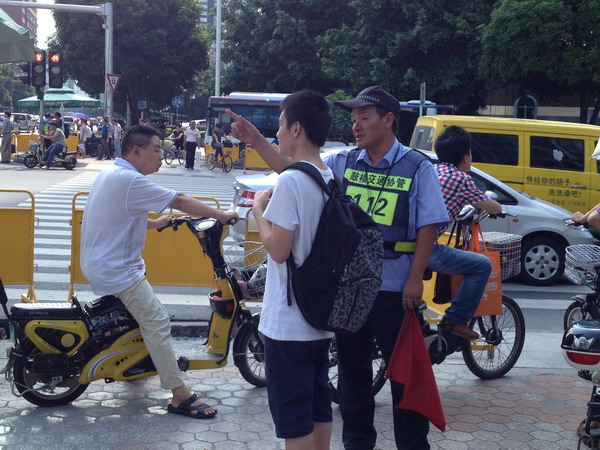 Lin Weihai [Photo by Sun Li/Asianewsphoto]
The 45-year-old, who works from 7:30 am to 12 am and 3 pm to 7 pm, has been braving the scorching sun in the capital city of Fujian province for five summers.
"The sun is vicious. On a dog day afternoon, it can burn you,'' Lin said. Recent analysis by China Meteoro-logical Administration's Na-tional Climate Center put Fuzhou as the country's "No 1 Furnace".
Lin admits to seeking shade if at all possible and drinking plenty of water.
"Sometimes the sizzling temperature makes the whistle hot and it burns my lips, so I have to put some water on it to cool it down."
Earning less than 2,000 yuan per month ($323), the Fuzhou native said he expects heat compensation. "I know there are financial subsidies if we work excessively hot days. I heard it will come in the next month," Lin said.
Lin said he doesn't mind working in the heat, but he does get annoyed at some pedestrians.Because he is an auxiliary, Lin has to face pos-sibly more pedestrian com-plaints if he stops them crossing the road when they want to.
"I want people to respect me more. After all, what I do helps them," Lin said.

Editor's picks

Copyright 1995 - . All rights reserved. The content (including but not limited to text, photo, multimedia information, etc) published in this site belongs to China Daily Information Co (CDIC). Without written authorization from CDIC, such content shall not be republished or used in any form. Note: Browsers with 1024*768 or higher resolution are suggested for this site.
Registration Number: 130349