Feeling the heat: Security man in Chongqing
Yu Jing, 21, from Wanzhou, Chongqing, has been a security guard at a residential park in the city for two years.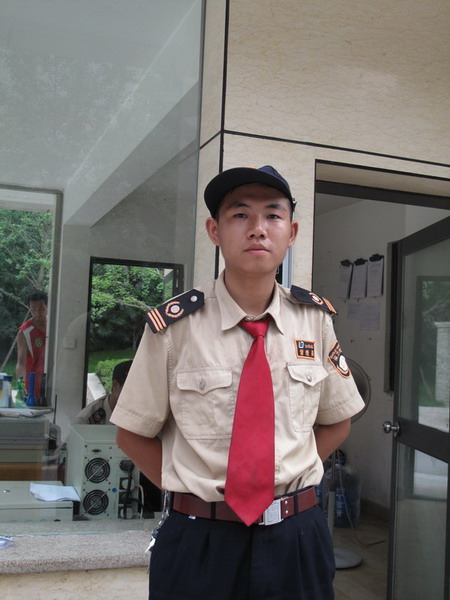 Yu Jing [Photo by Luo Wangshu/Asianewsphoto]
Yu dresses in his uniform, a baseball hat, light yellow shirt, red tie, and a pair of brown trousers despite the unforgiving heat.
"Summer time is always the hardest," he said and at the end of the day the uniform is often soaking wet from his sweat.
Yu works 12 hours a day, in two shifts, and earns about 2,000 yuan ($323) a month.
"I am satisfied with my income," said the former locksmith.
"I prefer working as a locksmith but I moved here to be with my girl."
Yu will drink six bottles of water every day.
luowangshu@chinadaily.com.cn

Editor's picks

Copyright 1995 - . All rights reserved. The content (including but not limited to text, photo, multimedia information, etc) published in this site belongs to China Daily Information Co (CDIC). Without written authorization from CDIC, such content shall not be republished or used in any form. Note: Browsers with 1024*768 or higher resolution are suggested for this site.
Registration Number: 130349