Relief goods needed in quake-hit region
LANZHOU - Relief goods are urgently needed in quake-hit areas in Northwest China's Gansu province, local authorities said late Monday.
Zhang Yidu, deputy mayor of quake-stricken Dingxi city, said at a press conference that a total of 14,000 tents, 24,000 quilts, food, drinking water, as well as medical facilities and drugs are badly needed in the counties of Zhangxian and Minxian.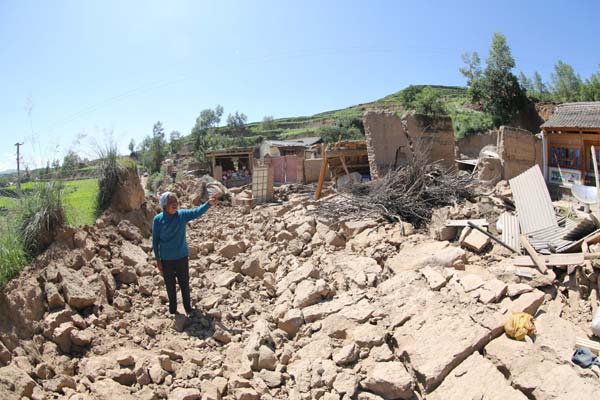 A villager talks about the damages in Minxian county, Gansu province, July 22, 2013. [Photo/Xinhua] 
Daily necessities including beds, food, drinking water, generators and emergency lighting are also needed, Zhang added.
A deadly 6.6-magnitude earthquake jolted the juncture area of Minxian and Zhangxian counties in the city of Dingxi at 7:45 am on Monday, leaving 89 dead, five missing, and hundreds of people injured as of Monday evening.
The quake also affected 123,000 people, led to 31,600 local residents being relocated, the collapse of more than 5,785 houses and severely damaging another 73,000 homes as of 8 pm on Monday, according to the publicity office of the Gansu provincial government.
Medical teams arrived at the quake-hit zone on Tuesday. A total of 870 injured people, 16 of whom are in critical condition, are being treated by the teams, the publicity office said.
As of Monday afternoon, Gansu provincial red cross society transported the first batch of relief goods to the quake-hit region. Meanwhile, it called for more help from society.
A medical team and 170 armed police from the neighboring Shaanxi province have also arrived at the quake-hit zone to help with the rescue efforts while 5,000 sleeping bags were also sent to the region on Monday evening, according to the Shaanxi provincial civil affairs department on Tuesday.

Editor's picks

Copyright 1995 - . All rights reserved. The content (including but not limited to text, photo, multimedia information, etc) published in this site belongs to China Daily Information Co (CDIC). Without written authorization from CDIC, such content shall not be republished or used in any form. Note: Browsers with 1024*768 or higher resolution are suggested for this site.
Registration Number: 130349