Explosion at Beijing Capital Intl Airport
An explosion occurred Saturday evening at the Terminal 3 of the Beijing Capital International Airport, police said.
A wheelchair-bound man, identified as Ji Zhongxing from east China's Shandong province, set off a home-made explosive device outside the arrivals exit of the Terminal 3 at around 6:24 p.m., an initial police investigation showed.
Ji himself suffered arm injuries and is currently under treatment.
The explosion caused no other injuries.
The device, like fireworks, was detonated after the 34-year-old was stopped from handing out leaflets to get attention to his complaints, according to the probe.
Ji once worked in the southern province of Guangdong and has been petitioning for more than 10 years over alleged unjust treatment which resulted in his paralysis, police investigation showed.
The police cordon at the arrivals exit has been removed, and the airport has begun to resume normal order.
The operations at the airport have not been affected as the airport opened new exits for passengers, the airport said.
Aviation industry experts urged people not to take extreme measures to vent their anger as such moves could disrupt public order.
Police authorities are further investigating the case.
8:40 pm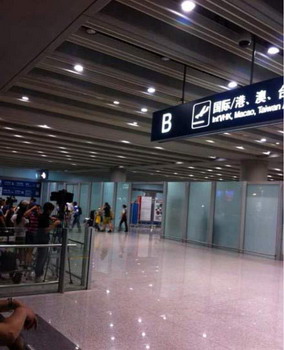 [Airport back to normal. Photo by An Baijie/China Daily]
8:32 pm
China Daily reporter An Baijie reported from Beijing Capital International Airport that no flight was affected by the explosion on Saturday and the airport has returned to normal.
8:30 pm
The airport says the arrival hall where the explosion went off has been cleared and order was restored. It has opened other areas for arriving passengers.
8:20 pm
A policeman was slightly injured in the explosion, which left the suspect's arm fractured, CCTV anchor Rui Chenggang wrote on Sina Weibo.
8:15 pm
China Central Televisoin says bomber is alive at the hospital, and the bomb was homemade from fireworks.
8:10 pm
@MalcolmMoore on Twitter: T3 back to normal, they've reopened the arrivals channel. Small pool of blood around 6ft from arrivals exit
8:05 pm                                                              
Suspect bomber Ji Zhongxing's blog leaked online. http://blog.sina.com.cn/u/1253278144
South Metropolis Daily shared on Sina Weibo a blog that it said was by Ji Zhongxing.
The blog included several stories claiming Ji became paralyzed after he was beaten by security guards in Dongguan, Guangdong province. Ji wrote that he worked part-time as a motorcycle taxi driver to make ends meet and was chased by policemen and then beaten by security guards on June 28, 2005.
Ji had to return to his hometown in Shandong province and has been appealing for assistance.
8:00 pm
Beijing Govt News Office says the suspect hurt only himself with the bomb. No one else was injured.
7:50 pm
Eyewitness @mild_luna wrote on Sina Weibo: Nobody took care of the man shouting in the wheelchair at the beginning, until someone noticed the suspicious white plastic bag. Security guards rushed at him, and several minutes later, the man detonated the explosive.
7:45 pm
Sources at Sina said the man detonated the explosive after he was stopped from passing out leaflets about his grievances.
7:40 pm
Beijing police identified the explosion suspect as Ji Zhongxing, who was born in 1979 and from Heze, Shandong province. No flights were affected by the explosion, according to CCTV.
7:35 pm
The Beijing News reports nobody else was injured in an explosion at the airport which declared an emergency following the blast.
A group of photos uploaded to Sina Weibo shows the explosion at Beijing Capital International Airport on Saturday. The photos show a man on a wheelchair shouting and holding up a white bag before the blast. (for more photos at the site)
7:30 pm
China Central Television reported that a man got injured after he detonated the explosive used for making firecrackers at the Beijing Capital International Airport. The man was sent to hospital for treatment while police launched an investigation.
7:10 pm
The blast was from a motorized wheelchair, sources told Sina Weibo.
The casualties were unknown so far.
7:00 pm
Many passengers said they witnessed the blast which occurred near Gate B, Terminal 3 of the airport at around 6:24 pm. Some photos uploaded to the site Sina Weibo showed smokes and dusts following the blast.

Editor's picks

Copyright 1995 - . All rights reserved. The content (including but not limited to text, photo, multimedia information, etc) published in this site belongs to China Daily Information Co (CDIC). Without written authorization from CDIC, such content shall not be republished or used in any form. Note: Browsers with 1024*768 or higher resolution are suggested for this site.
Registration Number: 130349