Tibetan farmers enjoy Onkor festival
How do the farmers in the Tibet autonomous region prepare for harvest? They pray and have fun during the Onkor Festival that lasts for three to five days before the heavy work.
The specific dates of the festival, which is only second to the Tibetan spring festival for the farmers, vary from place to place depending on when the crops that are ready for harvest.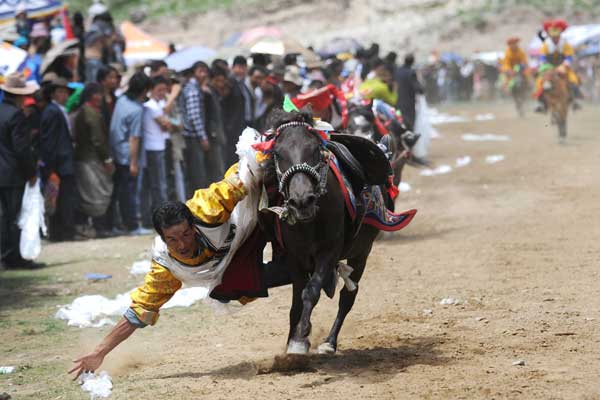 A ceremonial scarf is the target for a rider as the Ongkor Festival, a traditional Tibetan celebration to prepare for a bumper harvest, is staged in Lhasa on Thursday. PHOTO BY LI ZHOU / FOR CHINA DAILY
In Doilungdeqen county to the south of Lhasa, this year's three-day celebration started on Wednesday as the barley was ready for harvest.
"We've prepared for the festival for a week, feeding the horses good forage and preparing nice food for the family. Many friends and relatives also come during the festival," said 59-year-old Urgyen.
Onkor means "looking around the field" in Tibetan, which is why people put on ancient warrior's clothes, ride horses decked out in fancy colors and trot through the fields.
People also sing, dance, play drums and gongs and enjoy horseracing and contests.
Urgyen's grandson, Dondrup, 8, was one of youngest riders at the festival.
"I'm afraid he will be too busy to join the festival when he goes to college and starts working. Hopefully, he will always remember our traditions," Urgyen said.
The festival has a history of more than 1,500 years. To ensure a plentiful harvest, the then Tibetan king asked the hierarchy of the local Bon religion for guidance. Following the tenets of that faith, farmers walked around their fields, asking the heavens for a good harvest, which was the origin of the Onkor. It was later tinged with aspects of Buddhism.

Editor's picks

Copyright 1995 - . All rights reserved. The content (including but not limited to text, photo, multimedia information, etc) published in this site belongs to China Daily Information Co (CDIC). Without written authorization from CDIC, such content shall not be republished or used in any form. Note: Browsers with 1024*768 or higher resolution are suggested for this site.
Registration Number: 130349