Massive downpour hits Kunming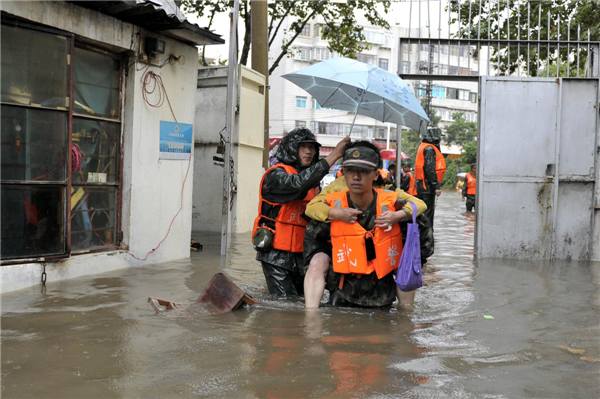 A soldier carries a resident through the urban flooding brought by rainfall in Kunming, capital of Southwest China's Yunnan province, on July 19, 2013. [Photo/Xinhua]
A 19-hour downpour caused widespread disruption in Kunming, capital of Yunnan province, with flood levels reaching 90 cm as of 3 pm on Friday.
The rain began at 8 pm on Thursday, leaving thousands of residents stranded on their way home.
Many had to take their shoes and socks off to wade across "urban rivers".
More than 77,000 people were affected by midday and there were two confirmed fatalities and a person reported missing, according to the Yunnan Provincial Department of Civil Affairs. The flood also caused more than 84 million yuan ($13.6 million) in direct losses, the department said.
Kunming police said traffic was almost paralyzed as of midday Friday.

Editor's picks

Copyright 1995 - . All rights reserved. The content (including but not limited to text, photo, multimedia information, etc) published in this site belongs to China Daily Information Co (CDIC). Without written authorization from CDIC, such content shall not be republished or used in any form. Note: Browsers with 1024*768 or higher resolution are suggested for this site.
Registration Number: 130349