Rainstorms claim 16 lives in China
BEIJING - Serious rainstorms have left 16 people dead and 19 missing since Sunday in China, said the Ministry of Civil Affairs here on Wednesday.
The disasters have affected 1.67 million people in 15 provincial divisions in China as of 9 am on Wednesday, according to a ministry statement.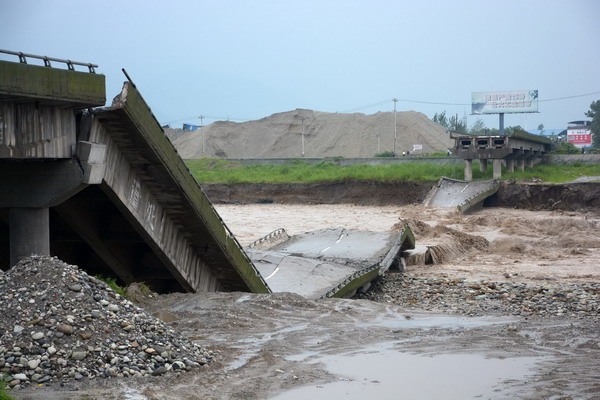 A bridge collapses due to rainstorms in Deyang city, Southwest China's Sichuan province, July 9. [Photo/Xinhua]
Heavy rainfall accompanied by thunderstorms and hail has triggered serious floods and landslides in these areas, the statement said.
The central government has sent out expert teams to supervise rescue and relief work in the worst-hit provinces such as Southwest China's Sichuan while relief material has been rushed to the affected areas.

Editor's picks

Copyright 1995 - . All rights reserved. The content (including but not limited to text, photo, multimedia information, etc) published in this site belongs to China Daily Information Co (CDIC). Without written authorization from CDIC, such content shall not be republished or used in any form. Note: Browsers with 1024*768 or higher resolution are suggested for this site.
Registration Number: 130349