China, Pakistan ink transport pact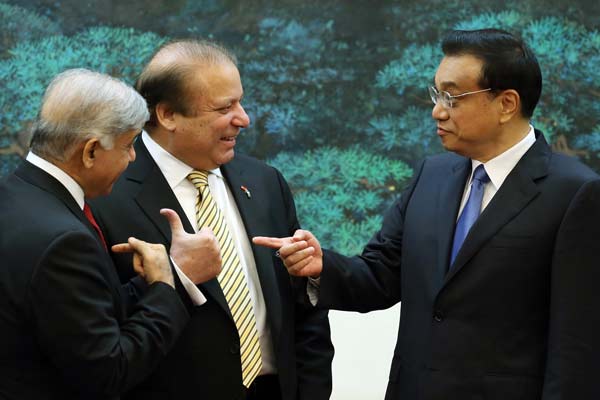 Premier Li Keqiang with Pakistan's Prime Minister Nawaz Sharif and Punjab Chief Minister Shahbaz Sharif (left) ahead of a signing ceremony at the Great Hall of the People in Beijing on Friday. WU ZHIYI / CHINA DAILY
Huge project to boost business ties between the two nations
China and Pakistan signed an agreement on Friday on the blueprint for a huge transport project linking northwestern China to the Arabian Sea.
Observers said the project, named the "China-Pakistan economic corridor", will open a new route for China's goods and energy.
It will also give a strong boost to Pakistan's economy and help maintain security there, they said.
The broad agreement was among eight pacts signed after a meeting at the Great Hall of the People between Premier Li Keqiang and Pakistani Prime Minister Nawaz Sharif.
The cost of the economic corridor project is not known at this stage.
"Our two countries can closely link China's Western Development Strategy with Pakistan's development strategy of reviving its economy," Li told Sharif at their meeting.
"This will also deepen regional cooperation in South Asia and benefit people of the two countries and the region."
The transport link is described as a "long-term plan'' to connect Kashgar in the Xinjiang Uygur autonomous region to the southwestern Pakistani port of Gwadar, more than 2,000 km away across a mountainous area.
Sharif said before the visit that he would focus on economic topics during his trip, with the corridor topping the agenda. He told Chinese reporters the corridor will "change the fate" of the region.
"Now that the management of Gwadar (port operations) has been handed over to China, we expect that Gwadar is ready to become a very important economic hub and an important Arabian Sea port," he said.
China Overseas Holding Ltd took over operational control of Pakistan's important Gwadar deep-water port from Singapore's PSA International earlier this year. Gwadar is close to the Pakistan-Iran border and the Strait of Hormuz, through which much of the Gulf region's oil exports are bound by ship for overseas markets.
Sharif said the economic corridor will boost bilateral trade considerably and offer opportunities for businesses in both countries.

Editor's picks

Copyright 1995 - . All rights reserved. The content (including but not limited to text, photo, multimedia information, etc) published in this site belongs to China Daily Information Co (CDIC). Without written authorization from CDIC, such content shall not be republished or used in any form. Note: Browsers with 1024*768 or higher resolution are suggested for this site.
Registration Number: 130349