ROK President urges co-op in emerging industries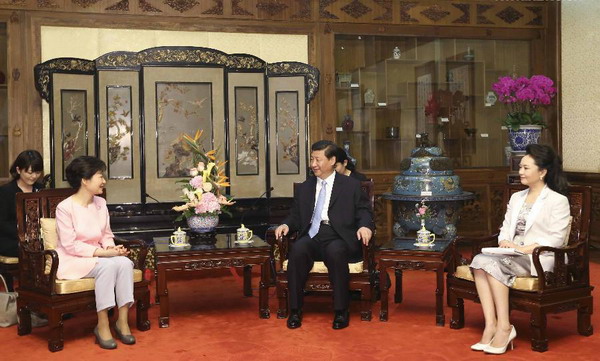 Chinese President Xi Jinping (2nd R, front) meets with South Korean President Park Geun-hye (L, front) in Beijing, capital of China, June 28, 2013. [Photo/Xinhua]
BEIJING - President of the Republic of Korea (ROK) Park Geun-hye said Friday that the ROK and China should deepen economic cooperation in emerging industries that have high added-value.
Park made the remarks while addressing a China-ROK business forum held in Beijing.
Park is visiting China from Thursday to Sunday.
Park said economic cooperation between the two countries in the past has mainly depended on trade and investment. The two sides need to extend cooperation into industries with high added-value, according to Park.
China is committed to cultivating its emerging industries and the ROK is also geared toward creating a "creative economy" propelled by innovation, Park said, adding that mutual cooperation in these areas can produce synergy.
Park also urged the two sides to build a more stable trade structure by expanding domestic demand and further exploring each other's markets.
A stable framework is needed as economic cooperation between the two countries deepens, Park said, adding that she hopes those who attended the forum can contribute to the successful completion of a China-ROK free trade agreement (FTA).
China and the ROK have held five rounds of FTA talks since last year, with the sixth round to be held in the ROK in early July.
China is the ROK's largest trade partner and the ROK is China's third-largest trade partner.
The total volume of exports and imports of goods between China and the ROK reached $72.91 billion during the January-April period, up 6 percent year on year, according to ROK data.